MRC Shills for Twitter Rival Parler, Censors Its Problems
Topic: Media Research Center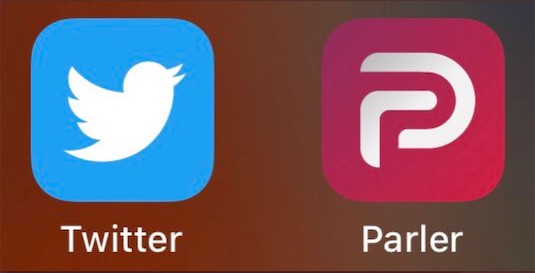 Like Gab, Parler is a Twitter wannabe that has gained a reputation as the place right-wingers go when they get kicked off Twitter for being too extreme. And like Gab, the Media Research Center has promoted Parler as a "free speech" alternative for right-wingers who are enjoy playing the victim by whining about how they got kicked off Twitter for their extremism.
While the MRC and its writers did not have the courage of their convictions by abandoning Twitter to join Gab, they are joining Parler (while hedging their bets by not quitting Twitter). The tipping point appears to be right-wing activist Dan Bongino buying a stake in Twitter. Alexander Hall gave Bongino and Parler some free promotion in a June 16 MRC post:
Bongino declared on the June 16 episode of The Dan Bongino Show that this platform is "the social media alternative to the tech tyrants which have declared war against conservatism, liberty, and everything we stand for." He heavily cited founder and President of the Media Research Center Brent Bozell's opinion piece at Fox News, which declared that the "fate of democracy" will be decided by how conservatives fight for free speech online.

Bongino explained his rationale for partnering with Parler: "When I see my problem I try to solve it. Sometimes it works out, sometimes it doesn't. I didn't like the political establishment I ran for office" He then cited how he "didn't like what was out there in the podcast space, started my own." Then cited how he "didn't like what the Drudge Report was doing with their hard-left turn we started Bongino Report.com, why? 'Cause talkers talk, and doers do."

Bongino described how this spurred him to take action on his own, "So I'm putting my own skin in the game" with his Parler partnership because "I don't like what Twitter is doing to us, and I don't like what SnapChat's doing to us, and I don't like what Facebook's doing to us, I don't like what Reddit's doing to us" citing how it banned r/The_Donald. "So I took an ownership stake in Parler and I'm going to put my own skin in the game, and I know, I know for a fact that we're gonna succeed, I know it."
A few days later, MRC writer and MNewsBusters managing editor Curtis Houck announced he had started a Parler account, declaring (on Twitter) that Bongino's "urging on his show finally convinced me, along with Twitter deciding law and order is offensive." Houck didn't mention that because Bongino now owns a piece of Parler, it's in his financial interests to promote its use by others. The next day, MRC official Tim Graham announced he had joined Parler at Houck's urging.
Around the same time, the MRC's "news" division, CNSNews.com, published an article touting how "conservatives are flocking to Parler, which considers itself an 'unbiased social media network,' after two conservative accounts were banned from Twitter earlier this week."
The MRC, however, won't tell you that Parler isn't exactly the "free speech" bastion it's been made out to be.
The Huffington Post reports that Parler's user agreement and community guidelines not only bans numerous forms of speech, users forfeit their right to sue Parler over posts and indemifies Parler in case a user gets sued over a post and requires the user to pay Parler's legal fees. That's the opposite of free speech, in the monetary use of the word. Parler is now trying to frame itself as something of a "good censor" who only kicks out people for good reasons, unlike Twitter.
Parler also has the issue of imposters and trolls posting under the names of famous people -- many of them Republican Party officials and politicians -- and it's turning into a right-wing echo chamber as liberals have declined to take part in the conservative migration.
Instead, the MRC is serving up Parler puff pieces. A July 31 post by Joseph Vazquez touted how Parler CEO John Matze appeared on Fox Business (of course)to talk about how "his site is doing its part to defend freedom of speech. Vazquez let Matze lie about the state of censorship on Parler by redefining the word: "There is no censorship of any kind. We do have clear rules about violence, any illegal activity — anything that you couldn't do in public, you couldn't do on Parler — but there is no ideological censorship or ideological bias of any kind."
Vazquez didn't mention how much Parler users have to sign away in order to use the platform, nor did he note any of the other problems Parler has. Then again, this was little more than a commercial for Parler.
Posted by Terry K. at 9:26 PM EDT