CNS Sends The Interns To Ask Senators Another Gotcha Question
Topic: CNSNews.com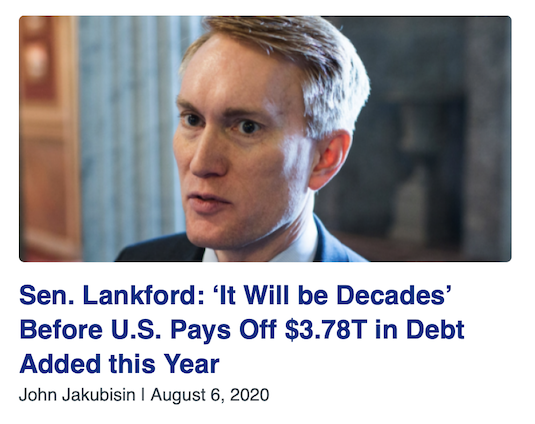 CNSNews.com just loves to send its summer interns out to the Capitol to pester members of Congress with gotcha questions. Their second question for the summer was more benign than asking about biological males who identify as females use female bathrooms and locker rooms, but it was more hypocritical. This time, they asked: "So far in fiscal 2020, the federal debt has increased by $3.78 trillion. When do you predict the government will pay off the debt it has added this year?" As usual they got several responses, all from senators:
Of these eight respondents, only Hirono and Warner are Democrats; the rest are Republicans. The question also conveniently omitted the fact that this year's debt was racked up under a Republican-controlled Senate and signed by a Republican president.
The hypocrisy here -- and, unsurprisingly, it was not mentioned in the questioning -- is that CNS' owner, the Media Research Center, played a role in increasing the federal debt by applying for and receiving more than $1 million from the Paycheck Protection Program.
But, then, pushing a message is more important at CNS these days then accuracy or ideological consistency -- or even reporting "news," despite the word being part of its name.
Posted by Terry K. at 12:24 AM EDT
Updated: Tuesday, August 25, 2020 2:00 PM EDT