CNS Interns Pester Members of Congress With LGBT-Bashing Gotcha Question
Topic: CNSNews.com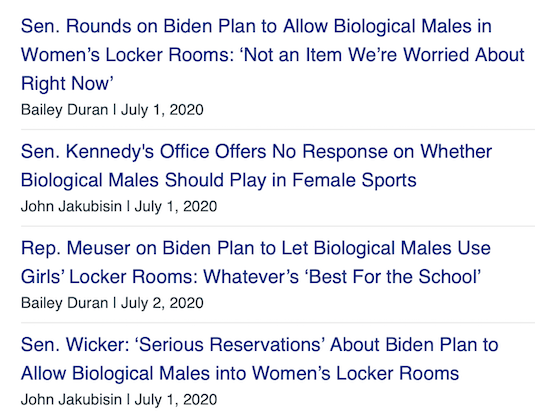 The tradition of CNSNews.com to send its summer interns to pester members of Congress with a loaded gotcha question designed to advance CNS' right-wing agenda continued this year despite the coronavirus pandemic. This time, CNS dipped into its well of anti-LGBT animus to fabricate another attack on Joe Biden with this question: "Joe Biden says that as president he will require federally funded schools to let biological males who identify as females use female bathrooms and locker rooms. Do you support that?"
Here's who got dragooned into CNS' game, and how they responded to provide CNS with 11 articles worth of content:
As usual, there's little news value here -- it's mostly an exercise in providing the intern some resume bait by giving them the chance to ask a question of a member of Congress. Plus, any congressperson who fails to give the conservatively correct answer will be pilloried at CNS, with the hope of blowing up the incident into the larger conservative media (and the intern can get partial credit for that too). The only Democrat on CNS' list is Feinstein; the Republicans who were noncommital have likely opened themselves up for attacks from right-wingers like CNS for failing to adequately hate the LGBT community and treating them as human.
This is much more about honing right=wing political messages than it is about delivering "news."
Posted by Terry K. at 12:22 AM EDT