Newsmax Gives Obama's Angry Half-Brother A Platform
Topic: Newsmax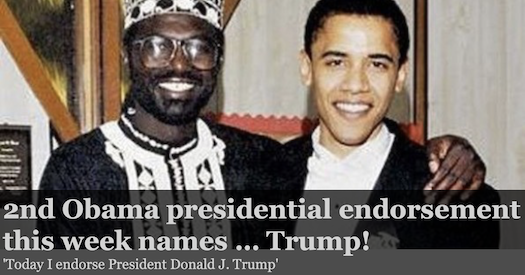 Right-wing media outlets continue to give Barack Obama's half-brother, Malik Obama, a platform because he says all the Obama-bashing things they love. Newsmax contributed with an Aug. 1 article by Tauren Dyson that rewrote a conservative New York Post piece:
President Barack Obama became "cold and ruthless" once he took office and abandoned his family in Kenya when they were most in need, according to a book from his half-brother Malik Obama.

"He got rich and became a snob," Malik, 62, told The New York Post via Skype. "What I saw was he was the kind of person that wants people to worship him. He needs to be worshiped and I don't do that. I am his older brother so I don't do that."

In "Big Bad Brother From Kenya," a self-published memoir that Malik Obama has been writing for the last 22 years, he details the slow but eventual fall out between him and Barack. The rift forced Malik to endorse Donald Trump for president in 2016.
As we've noted, Malik has spent years trying to ride his half-brother's coattails, and he's mad that Barack was not having it, and even Malik's fellow Kenyans have called him out on it. He even peddled a purported Kenyan birth certificate for Barack that even the rabid Obama birthers at WorldNetDaily admitted was fake.
Again: Outlets like Newsmax give Malik Obama a platform because bashes Barack Obama, and for no other good reason.
Posted by Terry K. at 5:46 PM EDT