Newsmax TV Gives Shows To Right-Wing Extremists
Topic: Newsmax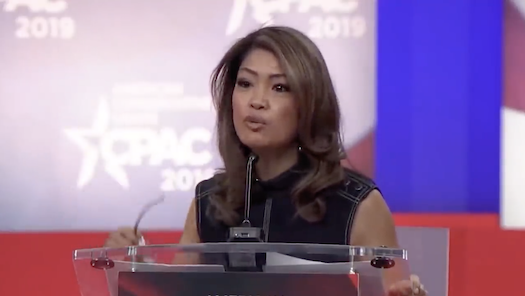 Newsmax had a couple announces to make on Aug. 7. First up was this article by Bill Hoffmann:
She's powerful, she's provocative and she never pulls her punches — and now award-winning journalist Michelle Malkin is ready to rock America with her new weekly show on Newsmax TV.

Tune in every Saturday, beginning Aug. 8, at 7 p.m. ET for "Michelle Malkin Sovereign Nation." The program re-broadcasts on Sunday at 11 a.m. ET.

Every weekend, the best-selling author and outspoken media entrepreneur will bring you stimulating commentary and detailed analysis of the news from her uniquely "American" point of view.
Since he's paid to be a shill and not an actual reporter, Hoffmann failed to mention that Malkin's "uniquely 'American' point of view" involves embracing white nationalism, elevating racists and fearmongering about vaccines.
That was joined a few minutes later by this gushy piece from Hoffmann:
They're opinionated, they're outrageous, and they're always on the money — and now America's beloved dynamic duo Diamond and Silk are coming to Newsmax TV.

"Diamond and Silk Crystal Clear" debuts Saturday, Aug. 8, at 7:30 p.m. ET, only on Newsmax TV, America's fastest-growing cable news network.

Lynette "Diamond" Hardaway and Rochelle "Silk" Richardson exploded onto the political scene in 2015, when they shed their Democrat roots to go Republican and began a livestream video blog in support of President Donald Trump.

[...]

Diamond and Silk are a hurricane force to be reckoned with — a force that already has proved too edgy for one cable outfit.
Hoffmann didn't bother to flesh that last part out, of course. Otherwise, he'd have to admit that Diamond and Silk lost their gig at Fox News' Fox Nation division earlier this year for spreading conspiracy theories and disinformation about the coronavirus pandemic. That's not being "too edgy" -- that's being malicious liars.
Hoffmann clearly isn't going to do this, but someone at Newsmax should explain why it gave such medacious and sleazy extremists their own TV shows.
Posted by Terry K. at 2:11 PM EDT