MRC Still Clinging To False Claim That Networks Accused Border Patrol Of 'Whipping' Migrants
Topic: Media Research Center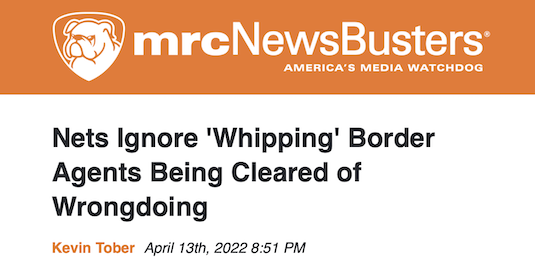 We've documented how the Media Research Center falsely accused the TV networks of falsely accusing Border Patrol agents of "whipping" migrants -- despite never presenting any evidence the networks actually did that. Kevin Tober is still spreading that lie in an April 13 post:
After spending days beating a dead horse with their fake news coverage claiming Border Patrol agents were "whipping" Haitian migrants, the liberal broadcast networks ignored the news that the agents involved were all cleared of alleged wrongdoing.

Loyal NewsBusters readers may remember in September that ABC's World News Tonight take a victory lap after the agents were put on desk duty.

However, now that the agents are in the clear, all three networks ABC's World News Tonight, CBS Evening News, and NBC Nightly News were more interested in covering local weather reports, The Library of Congress adding new songs to their registry, and El Salvador using Bitcoin as their national currency.
Tober linked to a September post by Nicholas Fondacaro making the false allegation. But as we doucmented, at no point did Fondacaro quote anyone at ABC, CBS or NBC directly accusing the Border Patrol of "whipping" the migrants.Nor did Fondacaro quote any ABC employee accusing the agents of "whipping" the migrants in what Tober called the "victory lap."
As usual, Tober lavished praise on a certain "news" outlet who did report on this story:
Despite the blackout from the networks, Fox News Channel's Special Report made sure their viewers weren't kept in the dark, with correspondent Lucas Tomlinson reporting how the network "has learned that officials have cleared the horse-mounted border patrol agencies of wrongdoing after they were accused of whipping migrants in September and placing them on probation."

After that quick report, anchor Bret Baier made sure to bring the subject back up during the "All-Star Panel." Talking to senior political analyst Brit Hume, Baier reminded viewers this incident happened in September 2021 and noted how "we are just getting to the back end of this investigation where the guys are not being punished; Brit, and remember how much coverage was given to that moment."

Hume, in response, tore into the Biden administration and the Democratic Party:
After quoting a rant from Hume -- whose right-wing bias he did not identify; nor did he quote Hume citing any network newscast describing what happened as "whipping" -- Tober concluded by huffing: "This is why Fox News is the most-watched cable news network, and nobody trusts the liberal media, they never admit their mistakes and instead cover them up."But why should anyone trust Tober, Fondacaro and the rest of the MRC if they continually spread lies?
Posted by Terry K. at 11:44 AM EDT
Updated: Monday, May 30, 2022 11:50 AM EDT