CNS Unemployment Coverage Distortion Watch
Topic: CNSNews.com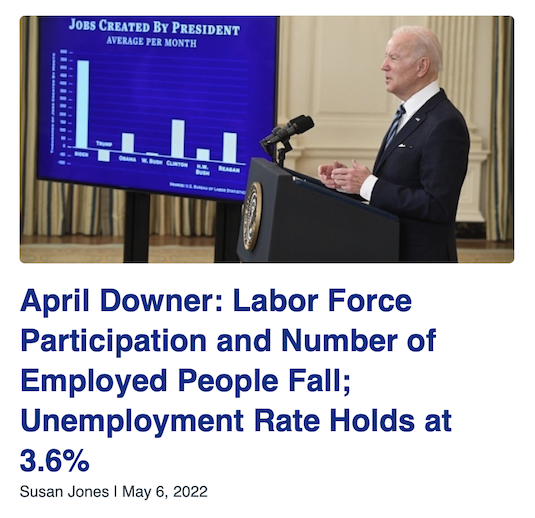 In keeping with the pattern of recent months, CNSNews.com's coverage of unemployement numbers downplayed the positive numbers while cherry-picking the ones that aren't so good. This went to an extreme in Susan Jones' lead story on April's numbers, which carried the headline "April Downer: Labor Force Participation and Number of Employed People Fall; Unemployment Rate Holds at 3.6%." Yet the article began this way:
Non-farm payrolls added 428,000 jobs in April, in line with the the consensus estimate of around 400,000, the Labor Department's Bureau of Labor Statistics reported on Friday.
Jones followed that with her longtime obsession with the labor force participation rate, which she tends to hype whenever a Democrat is president, as well as another obsession with reminding us how great things supposedly were under Donald Trump before the pandemic:
The number of employed people fell to 158,105,000, a decrease of 353,000 from the prior month. But the number of unemployed people -- those who have actively looked for work in the prior four weeks and are currently available for work -- also dropped by 11,000 to 5,941,000.

The April unemployment rate held steady at 3.6 percent, the same low rate as it was in March. But the labor force participation rate is moving in the wrong direction.

In April, the civilian non-institutional population in the United States was 263,559,000. That included all people 16 and older who did not live in an institution, such as a prison, nursing home or long-term care facility.

Of that civilian non-institutional population, 164,046,000 were participating in the labor force, meaning they were either employed or unemployed -- they either had a job or were actively seeking one during the last month. This resulted in a labor force participation rate of 62.2 percent in April, down from 62.4 percent in March.

The participation rate was 61.4 percent when Joe Biden took office. Today's number, 62.2 percent, is still below the Trump-era high of 63.4 percent in February 2020, just before COVID shut things down.

It wasn't until the eighth paragraph that she admitted the inconvenient truth (for her narrative, anyway) that the labor force participation rate is low because of "the growing number of Baby Boom retirees."
Editor Terry Jeffrey served up his usual sidebar on government employment, this time complaining that "The number of people working for government in the United States grew by 22,000 in April."
Posted by Terry K. at 3:49 PM EDT