MRC Has A Predictible Meltdown Over Transgender Swimmer
Topic: Media Research Center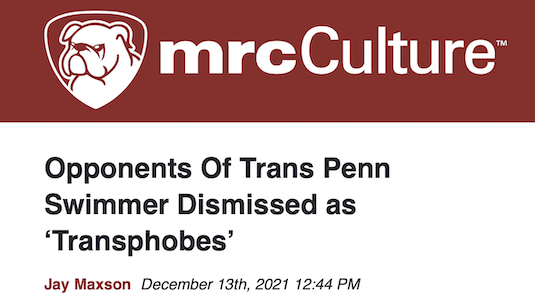 It was no surprise to see the highly transphobic Mddia Research Center -- who went all in on
attacking transgender athletes
last year -- go all in again with the rest of the right-wing media on a
hate
campaign
against Lia Thomas, a transgender college swimmer. Matt Philbin kicked things off with an especially hateful Dec. 10
post
:
If you haven't heard, there's an athlete at Penn who's destroying women's swimming records.

According to The New York Post, "She recently set school records in the 200-meter freestyle and 500-meter freestyle in November. This past weekend, the record-breaking stretch continued, as Thomas set a school record in the 1650-meter freestyle. Her teammate Anna Kalandadze finished in second place — over 38 seconds behind" this waterborne prodigy.

But there's one little problem: She's not your female swimmer, she's a man, baby! Yep. Lia Thomas is a veteran Penn swimmer – a veteran of the men's team.

The NCAA may be fine with a biological male making the women look like their treading water, but the rest of the team is apparently none too thrilled having Moby Dickless on the squad.

One female Penn swimmer spoke anonymously to Outkick about the awful situation Thomas, the NCAA and our stupid culture have put them.
1) Philbin apparently thinks that 25-year-old cultural references are relevant to insulting transgender people today. 2) Philbin seems to have forgotten that his employer believes anonymous sources are not trustworthy and are used only to advance political narratives. Still, he continued whining:
This guy has the potential to be NCAA champ and break NCAA all-time records. In women's swimming. Outckick's interviewee pointed out the absurdity of it all.

The Ivy League is not a fast league for swimming, so that's why it's particularly ridiculous that we could potentially have an NCAA champion. That's unheard of coming from the Ivy League.

So is anyone speaking the truth about biology and culture. Good on this young lady for doing it, even anonymously. But she seems to know how much good it will do, given the myopia of woke culture and the rot of institutions like the NCAA:
A Dec. 13 item by Jay Maxson -- who's so mysterious we don't even know what sex he (or she) is -- was upset that the transphobes attacking Thomas were correctly identified as such:
Courtesy of "transphobes," an "anti-trans panic" has come to the Ivy League swimming pool at Pennsylvania University. Lia Thomas, the latest trans woman athlete," has become the "villain", says SBNation Outsports trans writer Karleigh Webb (no conflict of interest here though). Thomas is a man who's smashing women's swimming records to bits, while violating Webb's belief that "transgender women" are only acceptable to the Right if they lose at women's sports.

Some of Thomas's teammates are among the "transphobes" complaining about Thomas and unfairness. Media members are also crossing the line in their attacks on the "biological male," Webb complains.

Whoops, sorry! "Biological male" is merely a "soft-bigot variant of misgendering," Webb explains.

[...]

Historically speaking, it's the LGBT pressure groups who are the johnny-come-latelys. They encourage kids to experiment sexually and to focus on gender identity, instead of their gender reality. They are gender-bending social engineers, "shock jocks" who encourage people to continue in their confusion.
Maxson devoted a Dec. 21 post to cheering that an editor for a swimming magazine trashed Thomas, littering it with phrases like "It's time to stop the madness" and "gender-bending nonsense." Three days later, Maxson found someone else to help him (or her) trash Thomas:
Long-time USA Swimming official Cynthia Millen resigned a week ago in protest over the so-called University of Pennsylvania transgender athlete making a mockery of women's collegiate swimming. Millen told The Washington Times and Fox News that she will not support transgender nonsense on the grounds that the fairness in women's swimming is being destroyed by a man.

Lia Thomas was a mediocre swimmer on the UPenn men's swimming team for three years, then suddenly claimed he is a female. Now swimming for the women's team, he is smoking all female competitors in the pool. He completed testosterone suppression treatments to meet the NCAA's ridiculous guidelines, but his XY chromosomes and his physical advantages over females have not lessened.

Millen said she can no longer serve as a women's swimming official because biological men are creating an uneven playing field for women.

''I don't mean to be critical of Lia," Millen said. "Whatever's going on, Lia's a child of God, a precious person, but bodies swim against bodies. That's a male body against females. And that male body can never change. That male body will always be a male body.''
Maxson concluded by gushing that "The courageous people are those like Millen who have the intestinal fortitude to stand up and oppose the agenda."
Maxson's fellow MRC sports blogger, John Simmons, heaped more love on Millen in a Dec. 29 post:
On Christmas Eve, swimming official Cynthia Millen resigned after 30 years in the sport due to a transgendered woman who is smashing swimming records. Now, she is boldly speaking out against men who are allowed to compete in women's sports simply based on what they identify as.

Miller criticized the University of Pennsylvania for allowing Lia Thomas, a biological man who transitioned to being a woman, to participate in events and in the process obliterate swimming records set by real women.

[...]

Miller is absolutely right, allowing men to compete in women's sport accomplishes nothing but the destruction of women's sports. Not only does it further blur the line between men and women, but it allows for men (who are biologically stronger in the vast majority of cases) to minimize anything that women accomplish in athletics.
But both Maxson and Simmons censored from their readers the fact that Millen is actually a far-right hater who has lashed out against transgender people as a whole (so much for the "child of God" thing), same-sex marriage and adoption and even birth control. But really, does anyone expect the MRC to be honest about this?
Posted by Terry K. at 8:49 PM EST
Updated: Tuesday, February 15, 2022 8:56 PM EST