MRC Writer LIES About Reporting On Border Partrol Whip Claim
Topic: Media Research Center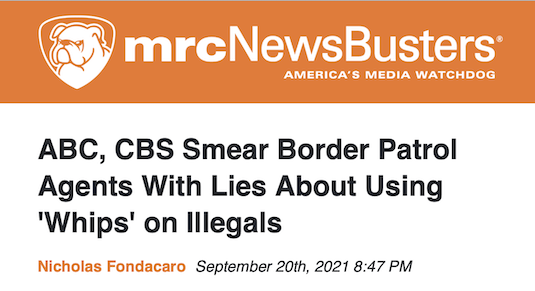 The Media Research Center's Nicholas Fondacaro hyperbolically ranted in a Sept. 20 post:
Parroting the Biden White House's use of "horrific" to describe the images coming out of Del Rio, Texas Monday, ABC and CBS drew viewers' attention to the crisis on the U.S.-Mexico border. But no, they weren't talking about the nearly 15,000 Haitian illegals living under the international bridge in squalid conditions. They were spreading misinformation and lies about Border Patrol agents purportedly using "whips" against the people trying to cross the river.

Actually, the liar here is Fondacaro -- at no point does he quote anyone from ABC or CBS describing anyone from the Border Patrol using "whips." From later in his post:

There are alarming images from the Texas border tonight. The White House pressed on them today, calling the images 'horrific.' What were some Border Patrol agents doing," gawked ABC World News Tonight anchor David Muir, repeating his dubious question from his opening tease.

Downplaying how the Biden administration had been ignoring cries for help from Customs and Border Protection for months, ABC correspondent Kenneth Moton ignored statements made by CBP giving context to the images, equipment, and training their agents received:

Tonight, this new video of Haitian migrants at the southern border, the chaos and despair. Images showing Border Patrol agents on horseback as they try to stop them from crossing the river into the U.S. the White House seeking answers.

He followed up with a soundbite of Press Secretary Jen Psaki ignorantly spouting off. "I've also seen the video. I can't imagine what the scenario is where that would be appropriate," she said.

[...]

But the truth didn't matter to the CBS Evening News as they too spewed the lies. Correspondent Manuel Bojorquez even accused agents of targeting families and babies.

"A number of agents on horseback can be seen trying to keep migrates from crossing into the country while threatening them with what appears to be horses reins or ropes; including families like this one holding a baby when the agents get dangerously close," he claimed.

He also whined about "A massive show of force by Texas Troopers crating a barricade along the border to stop the thousands of mainly Haitian migrants from arriving in Del Rio, Texas."
Again: Fondacaro doesn't quote anyone declaring that the Border Patrol was using whips. That make him a liar -- eve as he accused others of telling "lies" he didn't actually identify. Yet so committed was Fondacaro to the false right-wing narrative that he spouted it again the following day:
For the second evening in a row Tuesday, ABC and CBS continued to peddle the debunked and malicious smear that mounted Border Patrol agents were "whipping" Haitian migrants that tried to cross into the United States illegally. While they either scoffed at or ignored the statements from knowledgeable sources explaining the training and basic horsemanship, NBC Nightly News again bucked the narrative and chose to talk about how violent some of the illegals were when they were being deported.

[T]he Department of Homeland Security is now launching an investigation into those disturbing images of some border agents on horseback, images the White House called 'horrific,'" announced sensationalist ABC anchor David Muir on World News Tonight.

Further into the segment, ABC correspondent Kenneth Moton lauded the ridiculous investigation and President Biden's ignorant comments:

MOTON: And tonight, amid questions over images, the white house called "horrific." DHS now launching an investigation into these images, showing Border Patrol agents on horses, confronting migrants as they enter Texas from Mexico. Tonight, President Biden reacting to those chaotic scenes.

BIDEN: We will get it under control.

"The union representing Border Patrol agents saying, that's their training," he scoffed at the facts. And as he wrapped his segment, Moton touted how DHS "right now, has agency monitors on the ground to make sure those policies are being followed."

Over on the CBS Evening News, anchor Norah O'Donnell didn't fear for the Del Rio community that was having their grocery stores cleaned out nor for the overworked and overwhelmed Border Patrol agents. "And there is growing concern about how the migrants are treated both in Mexico and the U.S." she lamented.

The network was also out to warp reality, ignoring the situation surrounding the need to bring in mounted units. Disregarding how Border Patrol needed to use horses because of the terrain and for potent crowd control, CBS correspondent Manuel Bojorquez suggested they just wanted to be cruel.

"The Department of Homeland Security is now investigating this incident where Border Patrol agents on horseback are seen intimidating Haitian migrants at the southern border," he reported.
Again, the reality warper is Fondacaro. despite accusing ABC and CBS of claiming the Border Patrol was "whipping" immigrants, he quotes nobody actually saying that.
But Fondacaro wasn't done pushing his false narrative. He wrote in a Sept. 22 post: "Border Patrol was already stretched dangerously thin but on Wednesday, ABC's World News Tonight celebrated their job getting harder as multiple mounted agents were ordered to 'administrative duties' after the rabid left and liberal media smeared them with lies about using 'whips' on Haitian migrants." But nowhere in his post did he quote any ABC employee saying the word "whips."
Telling ridiculous and blatant lies is a Fondacaro staple -- but the MRC appears to be totally cool with one of his researchers spreading lies, since he still has a job there.
Posted by Terry K. at 6:22 PM EDT