WND Falsely Portrays Another COVID Vaccine Study And Where It Was Published
Topic: WorldNetDaily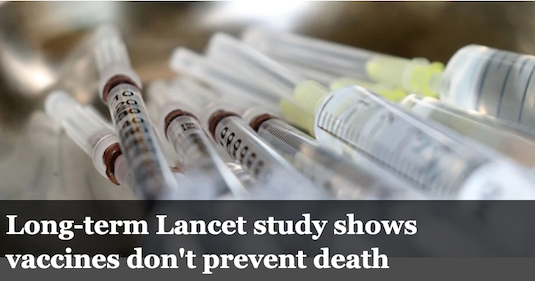 WorldNetDaily's Art Moore wrote in an April 14 article:
A long-term study published by the prestigious British journal The Lancet that follows up on participants in the Moderna and Pfizer trials found the vaccines had no effect on overall mortality.

Among 74,000 trial participants, there were 31 all-cause deaths among the vaccinated and 30 among the placebo groups as of January, reported Daniel Horowitz of The Blaze.

Curiously, as Horowitz noted, the authors of the Danish-government-funded study state: "Based on the RCTs with the longest possible follow-up, mRNA vaccines had no effect on overall mortality despite protecting against fatal COVID-19."

Horowitz asked: "So how is it that mRNAs had no effect on all-cause mortality but protect against fatal COVID?"

He supposed that either the vaccines "don't really protect against COVID, or the nominal benefit is washed away by the mortality from adverse events."
Moore got one key fact wrong. The study has not been published in The Lancet -- it was published on a separate preprint website prior to peer review; if it clears peer review, only then will it actually be published in The Lancet.Moore aldo didn't explain why the Blaze writer was demanding that COVID vaccines prevent death from non-COVID causes.
On top of that, Moore (along with the Blaze) overstates what the study actually says. PolitiFact reported:
"The study isn't about the effectiveness of mRNA vaccines against COVID," said Amesh Adalja, a senior scholar at the Johns Hopkins Center for Health and Security. "The study is aimed to determine if COVID vaccines have non-specific mortality impacts that extend beyond the incontrovertible mortality benefit they confer with COVID-19. Certain vaccines have effects that extend beyond the target infection and decrease mortality from other causes (e.g. measles vaccine)."

Dr. Monica Gandhi, an infectious disease specialist at the University of California, San Francisco, also said the question of the paper isn't about COVID-19, but whether the vaccines had a beneficial effect on other causes of mortality.

The research reinforced that both types of vaccines significantly prevented COVID-19 deaths, "which is not surprising as both types of vaccines generate cellular immunity against SARS-CoV-2, protecting us against severe disease."

[...]

This is an oversimplification that doesn't accurately reflect the preprint study, which was not peer reviewed. Researchers used clinical trial data to see how the different COVID-19 vaccines reduced deaths from all causes. They found that adenovirus-vector vaccines appeared to protect against non-accident, non-COVID-19 deaths, while mRNA vaccines didn't have much of an impact. They said more research is needed.

The research didn't conclude that mRNA vaccines were ineffective at protecting people from dying of COVID-19.
Moore does have an unfortunate tendency to falsely report on study results in order to push the bogus narrative that COVID vaccines don't work.
Posted by Terry K. at 2:21 PM EDT