CNS Unemployment Coverage Shocking-Lack-Of-Distortion Watch
Topic: CNSNews.com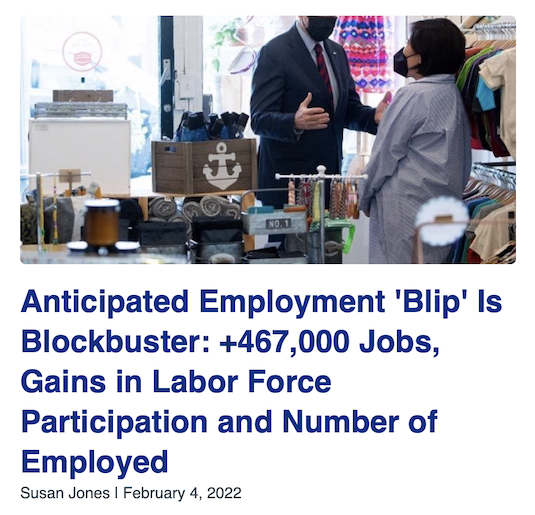 One way to stop CNSNews.com from picking at the Biden administration over employement numbers is to turn in impressive ones. That's what happened in January, and even Susan Jones could find little to complain about in her main article:
Even before the Bureau of Labor Statistics released its January employment report, the Biden administration signaled that it was expecting a "blip" in today's data.

Commerce Secretary Gina Raimondo told CNN on Thursday morning that "this will be an an unusual month, potentially," because of the surge in omicron cases during the reporting period.

This morning, BLS delivered the "blip" referenced by Raimondo, but it was a very positive one:

The economy added 467,000 payroll jobs in January, way above the consensus estimate of +150,000. Some analysts were expecting 6-figure job losses for January.

The number of employed Americans increased by 1,199,000 in January to 157,174,000, the strongest showing in two years and just 1,692,000 below the record high of 158,866,000 in February 2020.

Because the number of unemployed Americans also increased (to 6,513,000 from 6,319,000), the unemployment rate ticked up a tenth of a point to 4.0 percent.

Impressively, the labor force participation rate increased by 0.3 points to 62.2 percent in January.
Jones, who is normally so good at cherry-picking numbers to denigrate the overall picture, couldn't find any this time.
The only sidebar this time was the usual grousing by editor Terry Jeffrey about government employment, but even he found a bright spot: "Government in the United States grew by a net of 23,000 workers in January with all of the government employment growth coming in local governments—particularly public schools--as state governments and the federal government actually decreased their employment."
Posted by Terry K. at 12:15 AM EST