CNS Flip-Flops On The Johnson Amendment To Own The Libs
Topic: CNSNews.com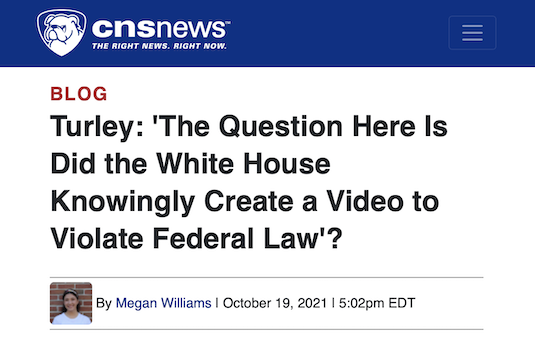 As part of its efforts to get a Republican elected Virginia governor, CNSNews.com tried to play gotcha in an Oct. 19 article by Megan Williams:
George Washington University law professor Jonathan Turley questioned whether Vice President Kamala Harris deliberately tried to violate the law by creating a video played to black Virginia churchgoers, urging them to vote for Democratic gubernatorial candidate Terry McAuliffe.

"The Biden Administration has to enforce our tax laws, including rules governing 501(c)3 organizations, including churches," Turley told Laura Ingraham on Monday's "The Ingraham Angle." "Now part of those regulations include what's called the Johnson Amendment, and that prohibits direct politicking in churches in order to be tax-exempt."
Williams added a Turley quote in a transcriopt: "So, if churches play this video, they would be in violation of federal law. If the White House participated in this plan to have direct politicking, they would have assisted in that violation. Now that puts them in a rather awkward position since their administration has to enforce this very rule."
But Williams left buried in the transcript another statement by Turley:
What's interesting, Laura, is President Trump really did not like the Johnson Amendment, insisted that he was going to get rid of it.

"And when he did, many Democrats, many legal experts cried foul, and they said this is destroying the separation of church and state, this is encouraging the violation of federal law. And yet, after this video played, there was nothing but crickets from many of those areas."
But if Trump got rid of the Johnson Amendment, why is Turley accusing Harris of violating something that doesn't exist? That's because Trump didn't actually get rid of it; he just issued an executive order that basically didn't do anything and left the statute on the books.
This was followed by an Oct. 27 column by Star Parker, who declared: "According to some opinions, Harris' politicking for McAuliffe in churches violates either or both the Johnson Amendment, which prohibits tax-exempt entities such as churches from electioneering, and the Hatch Act, which prohibits federal government officials from using their position to influence the outcome of an election."
But like it was with the Logan Act, CNS is being hypocritical about the Johnson Amendment: the desire to see it enforced depends on which party is controlling the White House. Indeed, it aggressively cheered efforts by Trump and its fellow conservative to blunt to repeal the amendment. Let's look at how that was done:
In May 2017, Craig Bannister hyped Trump's executive order that "directs the IRS to exercise maximum enforcement discretion to alleviate the burden of the Johnson Amendment" and how "Priests, nuns, the largest women's public policy group in the U.S., and the niece of Dr. Martin Luther King, Jr. all gave thanks" for the order -- though, as noted above, it didn't really do anything.
That was followed by Arter gushing over Trump's signing of the order, which she falsely claimed repealed the amendment:
President Donald Trump marked the National Day of Prayer on Thursday by signing an executive order repealing the Johnson Amendment, which targets religious leaders who engage in political speech by threatening their tax-exempt status.

"For too long, the federal government has used the power of the state as a weapon against people of faith - bullying and even punishing Americans for following their religious beliefs," the president said.
A column by Stonestreet, however, surprisingly admitted that Trump's executive order was largely for show: "the Johnson Amendment is bad law, but it's rarely, if ever, enforced. So the order effectively tells the IRS to continue doing what it is already doing." A column by Ryan T. Andersaon a few days later similarly conceded that "legislation is required to actually address the Johnson Amendment—which isn't the prime priority on religious liberty."
Nevertheless, Arter returned to gushing in a June 2017 article that in a speech, Trump "talked about how he repealed the Johnson Amendment, which made prohibited nonprofits - including churches - from endorsing political candidates and participating in political campaigns or risk losing their nonprofit status." A separate article the following uncritically quoted Trump saying, "I just signed an executive order following -- and this is something that makes me very happy and very proud -- following through on my campaign pledge to stop the Johnson Amendment from interfering with your First Amendment rights."
The confusion over what exactly Trump did, and CNS' failure to consistently report the facts, continued:
Why would CNS want a Democrat prosecuted under a law it and its allies want repealed? Because they're a bunch of hypocrites.
Posted by Terry K. at 1:18 AM EST
Updated: Tuesday, December 7, 2021 1:31 AM EST