MRC Won't Admit NY Times-Basher Is A Biased Conservative
Topic: Media Research Center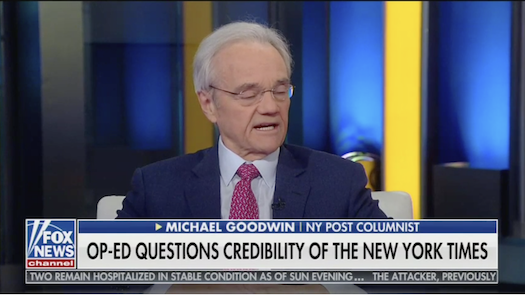 The Media Research Center's Aiden Jackson devoted an entire Dec. 2 post to how "former New York Times contributor and current New York Post reporter, Michael Goodwin" went on Fox News to talke about a Fox News-published op-ed complaining that the Times "has cemented itself as the CNN of the newspaper world with a leftist trajectory and near total loss of journalistic integrity" and that "the old-guard reporting standards at The New York Times are almost non-existent in the era of President Trump." Jackson went on to tout how "Goodwin then used a sledgehammer on the Timesto label them as a completely leftist publication through and through."
What Jackson doesn't tell you: Goodwin is a right-winger through and through. He did allude to it, stating that "As a disclaimer, it should be noted that Goodwin has served as a reporter with the Post for many years and currently writes opinion pieces for Fox News." But at no point does Jackson place an ideological label on Goodwin; instead, he played up Goodwin being a former Times employee to suggest that his Times-bashing is not partisan, despite the fact that he hasn't worked for the Times for a good couple decades and has been linked with right-wing outlets like Fox News and the Post since then.
Funny how the MRC has conniptions about how conservatives are labeled but won't use proper labeling when it doesn't serve its interests and narrative to do so.
Posted by Terry K. at 3:56 PM EST