CNS Editor Still Using Same Budget Argument Its MRC Parent Has Attacked
Topic: CNSNews.com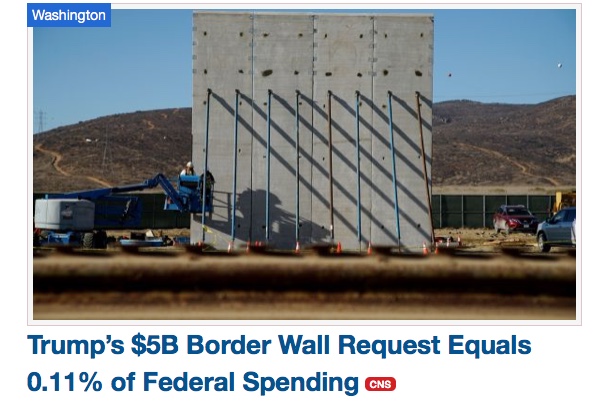 We've noted how CNSNews.com was President Trump's proposed border wall by claiming that it would cost only a miniscule percentage -- despite the fact that CNS' Media Research Center attacked that very same argument when supporters of public broadcasting and arts and humanities funding made it.
Well, CNS was at it again in a Nov. 30 article by editor in chief Terry Jeffrey:
President Donald Trump's $5 billion request for funds to use building a wall along the U.S.-Mexico border equals 0.11 percent of the estimated $4.5 trillion the federal government is expected to spend this fiscal year.

According to the Monthly Treasury Statement for October, the Office of Management and Budget has estimated that the federal government will spend a total of $4,509,641,000,000 in fiscal 2019, which started on Oct. 1.

President Trump is now asking Congress to approve $5 billion in the fiscal 2019 Department of Homeland Security appropriation to fund border wall construction along the U.S.-Mexico border.

That $5,000,000,000 would equal 0.11 percent of the anticipated total federal spending of $4,509,641,000,000.

To put the president's border wall request in perspective, the federal government spent $5.587 billion in the month of October alone for the Supplemental Nutrition Assistance Program, AKA food stamps. Thus, funding food stamps for just the first month of fiscal 2019 cost more than Trump's entire fiscal 2019 request for border wall funding.
Jeffrey even included a ludicrous bar chart showing an extremely long bar for federal spending next to a virtually nonexistent one for the border wall request.
By contrast, a March 2017 column by his boss, MRC chief Brent Bozell, and Tim Graham touted how defunding the Corporation for Public Broadcasting, which provides money to public ratio and TV operations across the country, would "save of ton of taxpayer money," parenthetically adding that "$450 million is a lot of money."
Bozell and Graham will never write a column complaining that $5 billion "is a lot of money." and they will never make Jeffrey write an article to that effect.
Posted by Terry K. at 9:29 PM EST
Updated: Wednesday, December 12, 2018 1:12 AM EST