CNS Still Violating MRC's Standards On How A 'News' Outlet Should Behave
Topic: CNSNews.com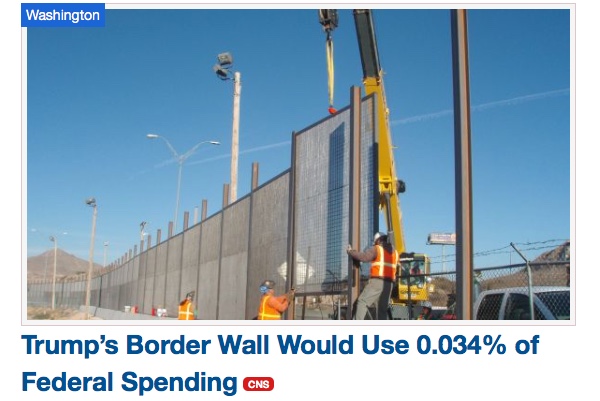 Last April, we caught CNSNews.com editor in chief Terry Jeffrey making the argument that President Trump's proposed multibillion-dollar border wall cost only "0.035 percent of what the federal government will spend in total this year" -- despite Jeffrey's co-workers at the Media Research Center attacking liberals for making the same comparative-spending argument to preserve funding for arts, humanities and public broadcasting.
Jeffrey trotted out that same argument again in a Jan. 9 CNS article:
President Donald Trump's current border wall proposal would cost $18 billion over the next ten years, according to an estimate U.S. Customs and Border Protection sent to members of Congress last week.

"The Trump administration is asking Congress for nearly $18 billion to construct more than 700 miles of new and replacement barriers along the Southwest border, its most detailed description yet of the president's vision of a wall separating the U.S. from Mexico," the Wall Street Journal reported on Friday.

That $18 billion would equal just 0.0338 percent of the $53.128 trillion the Congressional Budget Office currently estimates the federal government will spend over that same 10-year period.

It also equals only 2.7 percent of the money the federal government will spend on the food stamp program (the "Supplemental Nutrition Assistance Program"), which will eat up $679 billion in the ten fiscal years from 2018 through 2027, according to CBO's estimate.

The $679 billion the CBO estimates the federal government will spend on food stamps during that ten years is 37.7 times as much as the $18 billion it would spend on President Trump's proposed border wall.

At the same time, the $18 billion required for the border wall would equal a mere 0.34 percent of the $5.232 trillion CBO estimates that the federal government will spend on Medicaid over the next ten years.

While the nation is preparing to spend a total of $6.838 trillion on national defense over the next ten years, according to CBO, the $18 billion that President Trump would like to see dedicated to defending the U.S.-Mexico border with a wall would equal only 0.26 percent of that.
Again, we see that the MRC has very different standards for the "news" operation it runs than for the "liberal media" it's constantly dictating to. If CNS actually followed its parent's standards, the MRC might have a little more credibility.
Posted by Terry K. at 4:47 PM EST