NewsBusters' Sheffield Wants To Know Why Author of Murdoch Book Didn't Write About NY Times
Topic: NewsBusters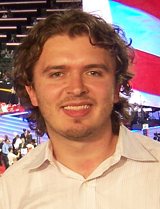 A Dec. 8 NewsBusters post by Matthew Sheffield is a transcript of his interview with David Folkenflik, NPR media critic and author of a new book on Rupert Murdoch. The interview was actually surprisingly balanced for the most part, given that the MRC has generally dismissed Folkenflik as a liberal -- two months ago, Tim Graham was dismissing his book.
But there was one bugaboo that exposed Sheffield for the talking points-spouting right-wing ideologue he is instead of the new-media guru he'd like to be seen as: his obsession with the New York Times.
Sheffield asks Folkenflik why he doesn't consider the Times' Arthur Sulzberger Jr. in the same space as Murdoch as among the last of the old-style media barons. Folkenflik pointed out that Murdoch built his company while Sulzberger inherited it and, unlike Murdoch, has been shedding many of its non-core assets.
Later in the interview, Sheffield does his best to downplay the phone-hacking scandal Murdoch's British newspapers perpetrated, asking Folkenflik why he wrote about something "most Americans have probably have never even heard of and probably don't really even care about." Folkenflik repsonds that the papers at the heart of the scandal were Murdoch's first major purchases outside of Australia and were a springboard to his empire, and that the company officials tied to the scandal were close to Murdoch.
But that wasn't enough for Sheffield, who tried to drag the Times back into it again:
Yes but there is a real dichotomy between the coverage, and I'm not just saying in your book here since it's about Murdoch, but Mark Thompson, the current head of the New York Times, he was in charge of the BBC during the time it was revealed that they found out about an ongoing, decades-long sexual molestation of children that the British celebrity Jimmy Savile did. I mean that was far worse than anything News of the World ever did and yet Mark Thompson—I mean the BBC knew about that he was doing this and didn't tell the public, didn't tell the police and so as a result, it's almost certain that children were molested because that knowledge was kept from the public.

And yet Mark Thompson, even in your own coverage, you only covered him and his involvement twice. And yet—it seems to me—

[...]

Yeah, but you see what I'm saying here, right? Mark Thompson is in charge of the most influential paper, as you put it earlier, in the world perhaps and certainly within the United States and yet he was involved perhaps, and no one knows for sure to what extent he was involved compared to with Murdoch. I mean couldn't you say that Mark Thompson set the culture that led to the suppression of that information about Jimmy Savile? I mean why aren't we hearing about that?
Folkenflik patiently explains the difference to Sheffield:
FOLKENFLIK: But you can't say that Mark Thompson created the BBC. Murdoch didn't create News of the World but he utterly changed what it was. He completely changed what the Sun newspaper was. And it's not a comparison because the BBC would be something approximating the BBC whether or not Mark Thompson had ever been born. And I just don't think you can say that about Rupert Murdoch.

SHEFFIELD: Yeah but—

FOLKENFLIK: Murdoch took it from a paper in Adelaide [Australia] and made it something with a market cap in many tens of billions. That's a very different proposition. So I don't want in any way anyone to misconstrue my comments into suggesting that what happened with Mark Thompson wasn't important. The BBC is not an American institution although it has a real presence here. The New York Times Company obviously is an important one. It's a very important newspaper and news organization. And it was important to direct coverage of that but there's been ongoing investigations and there's been some coverage of the results of those investigations and those crimes are horrific as alleged and in some cases acknowledged but I think they're just different stories.

If you want to go do a history of the BBC, I would think this would be an incredibly complex and brutal chapter and I would think it would be an appropriate one to do. And that's not the story I set out to tell.
Sheffield's colleagues at the Media Research Center have long tried to downplay the importance of the Murdoch phone-hacking scandal and shield Fox News from its fallout.
Posted by Terry K. at 1:42 PM EST