CNS' Jeffrey Wants Boehner To Put His Religion Before Country
Topic: CNSNews.com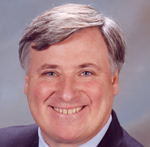 Terry Jeffrey uses his Sept. 17 CNSNews.com column to rant yet again that Catholics are being forced to pay for "sterilizations, contraceptives and abortion-inducing drugs" under Obamacare. He goes farther than usual by declaring that if the provision stands, Obama "will have succeeded in outlawing the practice of Catholicism in the United States":
Let me repeat that: Obama will have outlawed the practice of Catholicism in the United States.

Yes, Catholics will still be allowed to receive the sacraments inside their churches — they will retain what Obama calls the "freedom of worship" — but they will not be able to legally practice their faith, as God requires them to, in the way they live their entire lives.

Catholics will be forced to defy the government or defy their faith and submit to the government's demand that they do what is morally wrong.

The proper response to this profoundly evil and un-American demand by Obama and his bureaucrats is: Never!
Jeffrey then went even further by demanding that House Republican Leader John Boehner put his religion before the country by supporting a bill allowing people to opt out of Obamacare on moral objections:
Since March, this writer has asked Boehner's spokesman Michael Steel on multiple occasions whether the speaker will follow through on Cardinal O'Malley's request and attach H.R. 940 to "must-pass" legislation. Steel has never directly answered.

Now the question is whether Boehner, a Catholic, will protect even his own religious liberty, let alone that of other Americans, against a direct and unambiguous attack by the Obama administration.
John F. Kennedy famously had to deny that he would put his Catholic faith before the good of the country. Jeffrey is insisting on the opposite.
Posted by Terry K. at 10:39 AM EDT