Noel Sheppard's Laser-Guided Bias
Topic: NewsBusters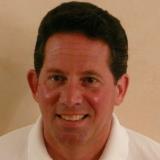 Oh, Noel Sheppard. You never cease to amaze us with all you do as NewsBusters associate editor, from having trouble with the truth to being shocked by the non-shocking to using anti-Semitic images (twice). Now we can only sit and marvel at your laser-guided bias.
In a Dec. 10 post, Sheppard goes off on Dan Rather for continuing to insist that his 2004 "60 Minutes" story about George W. Bush's National Guard service was true (never mind that he has a point). "The documents Rather presented that fateful night in September 2004 were clearly forgeries. Not one person has come forward since proving they weren't," Sheppard rants. "Yet here he is nine years later saying on national television, 'No question the story was true.'"
Sheppard plucked that sentence out of a much larger statement on a issue his Media Research Center employers are loath to talk about: Lara Logan's "60 Minutes" story on Benghazi featuring a man who was later found out to be a liar. The MRC has almost completely ignored the Logan scandal; even though Sheppard includes the full transcript of Rather's remarks, he doesn't comment on what Rather said about Logan.
Sheppard followed that up with more laser-guided bias in a Dec. 11 post that invoked more Sheppard standbys, the tired headline cliche (this time, "smacks down") and misleading about global warming:
For years, climate alarmists have dishonestly accused global warming skeptics of taking money from Big Oil to do their bidding.

On CNN's 11th Hour Tuesday, when Sierra Club executive director Michael Brune made such a claim, Climate Depot's Marc Morano marvelously fired back, "The Sierra Club took 26 million from natural gas and Michael has the audacity to try to imply that skeptics are fossil fuel funded"[.]
Sheppard forgot to mention one little thing: Brune was right. Morano's Climate Depot is sponsored by the Committee for a Constructive Tomorrow (CFACT), a conservative think tank that has received funding from ExxonMobil and Chevron. And, like Sheppard, Morano is a climate change misinformer and gets paid handsomely for doing so.
Don't ever change, Noel -- you provide so much material for us.
Posted by Terry K. at 3:47 PM EST