MRC Still Putting Scare Quotes Around Jan. 6 'Insurrection'
Topic: Media Research Center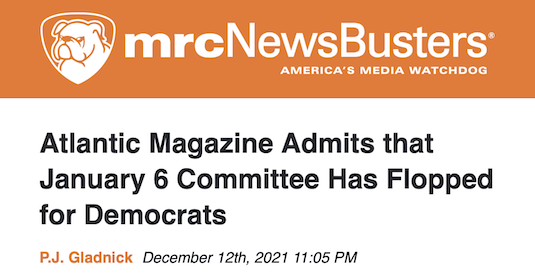 We've documented how the Media Research Center is trying to downplay the events of Jan. 6 by denying that it was an insurrection against the government. It hasn't stopped doing that.
A Dec. 10 post by Brian Bradley threw out the scare quotes in complaining that "leftist figurehead" Jonathan Greenblatt of the Anti-Defamation League -- not a "leftist" organizaiton, by the way -- complained that an ADL fellow was de-platformed by Face book for "'studying' the role that company may have played leading up to the Jan. 6 so-called 'insurrection.'" It's unclear why Bradley put "studying" in scare quotes, though it's all too clear why he did that to "insurrection."
In a Dec. 12 post, P.J. Gladnick featured an article abnout the Jan. 6 committee where "one problem is that none of the supposed insurrectionists has actually been charged with insurrection. " after the writer noted "law-enforcement officers who were attacked by insurrectionists," Gladnick added: "Attacked by 'insurrectionists' who were not charged with insurrection. That could be one reason why the January 6 investigations have become 'weirdly static.'" Is Gladnick denying that law enforcement officers were attacked as well?
Jeffrey Lord embraced scare quotes as well while playing whataboutism in his Dec. 25 column:
Thus it is that Trump colluded with Russia to win the 2016 election – when it fact it was Hillary Clinton's campaign paying for the infamous dossier. Thus it was that all those riots in 2020 that resulted in death, looting, burning and destruction were really "mostly peaceful." Perfectly decent high schoolers Sandmann and Rittenhouse were racist brats. And the riot by a relative handful of out-of-control protestors at the Capitol on January 6th was really an "insurrection", with the U.S. government itself hanging by a thread, with a coup attempt incited by President Trump under way.

The results of all this garbage is that the American people, in true "show me" mood, began to realize they were not being given "just the facts" journalism in any given situation but rather they were being fed liberal narratives masquerading as facts. Or, as the shorthand became, "fake news."
Jeffrey didn't explain exactly what was "fake news" about any Jan. 6 coverage.
Posted by Terry K. at 1:51 PM EST