CNS Plays Up Senility Narrative In Covering Biden Press Conference
Topic: CNSNews.com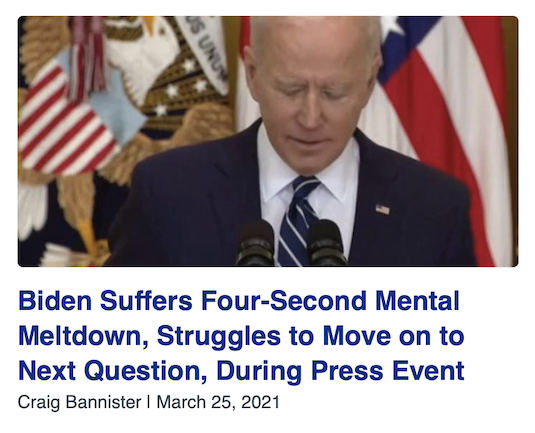 We caught CNSNews.com playing up President Biden makoing "three gaffes in 30 second" at his March 25 press conference. But that was far from the only negative coverage that CNS gave to it.
First and foremost in CNS' anti-Biden agenda was to perpetuate the right-wing narrative that he's going senile. Thus, Craig Bannister devoted an article to what he insisted was a "four-second mental meltdown":
Thursday, at his first press conference as president, Joe Biden appeared to forget what he was saying, then become so confused that he struggled to move on to a new topic.

Biden seemed to have increasing difficulty expressing his thoughts, then completely lost his train of thought:

[...]

Biden, then, appeared to continue to be confused as he tried to refer to his notes to call on the next reporter:

"Okay, um – hang on…ah, sorry. Oh. Same name, Miss Kim."

Answering the next question, Biden recovers, somewhat, though he pauses and has trouble continuing, at one point. By the following question, he appears to get back on track.

Note that Bannister can't be bothered to acknowledge Biden is the president in the lead paragraph, waiting until the second paragraph to note that, and even then only giving him an abbreviation.
An anonymously written article did the same thing regarding another part of his press conference:
President Joe Biden during his first presidential press conference today referred to written notes when calling on—and trying to name--reporters to ask him questions.

At one point, while looking down at his notes as he prepared to call on a reporter, he verbally stumbled around for about seven seconds, while saying: "Uh…Okay…Um…Where Am I Here…Let Me See."
It's weird that CNS thinks Biden spoke in capitalized words.
These partisan attacks on Biden's alleged "cognitive decline" were followed by four articles focusing on a single subject, immigration:
One final anonymously written article focused on Biden's remarks about the 2024 election, seemingly upset that Biden said he didn't know if there would still be a Republican Party then.
That's a total of eight articles CNS devoted to Biden's presser. None of them, by the way, noted the two biggest bits of actual news that Biden made: upping the goal for coronavirus vaccine shots and leaving the door open for changing Senate procedures to advance his agenda. That's because pushing narratives is more important than reporting facts.
Posted by Terry K. at 1:47 AM EDT
Updated: Friday, April 23, 2021 5:48 AM EDT