CNS Reporter Fact-Checks Biden, Gives Trump, GOP A Pass
Topic: CNSNews.com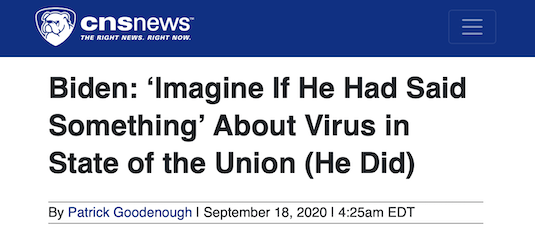 CNSNews.com reporter Patrick Goodenough has been quite the Biden fact-cheker of late. A few examples:
But given the opportunity to fact-check President Trump or other Republicans, Goodenough has refused to do so.
Goodenough actually wrote around one falsehood in an effort to avoid having to report on it. In an Aug. 26 article, he wrote on the Republican National Convention speech of Madison Cawthorn, gushing over how the wheelchair-bound Republican congressional candidate ended the speech "by hauling himself out of his wheelchair, standing to recite an adaptation of the pledge of allegiance." Goodenough went on to write that "Earlier in the speech, Cawthorn noted how young some of the great men of American history were at the time they were making an impact, citing George Washington, James Madison and Abraham Lincoln."
That's a dishonestly generous paraphrase of what Cawthorn actually said; he said that "personal favorite" James Madison "was just 25 years old when he signed the Declaration of Independence." In fact, Madison did not sign the Declaration.
In a Sept. 1 article, Goodenbough uncritically repeated Trump's assertion that Black Lives Matter is a "Marxist organization" (it's not). He then responded to Trump's claim that "Money is coming from some very stupid rich people that have no idea that if their thing ever succeeded – which it won't – they will be thrown to the wolves like you've never seen before" with this lame bit of affirmation: "Amid protests that erupted across the nation after a white police officer killed George Floyd in Minneapolis last May, some of America's biggest corporations – including Nike, Google, Microsoft, Apple and Amazon – announced donations to Black Lives Matter and other organizations focused on social justice for black communities."
Goodenough provided no evidence that any money from these corporations are funding protests or violence, either directly or indirectly. He also wrote this:
Trump recounted that a person flying "from a certain city" to Washington to attend the Republican National Convention had been on a plane that "was almost completely loaded with – with thugs wearing these dark uniforms, black uniforms with gear, and this and that."

He wouldn't reveal the name of the city the plane came from, saying the matter was "under investigation," but added that along with a handful of people heading to the RNC, "a lot of people were on the plane to do big damage."
If Goodenough had bothered to look into it, he might have found that Trump's story sound susiciously familar to a similar (and bogus) claim circulating in right-wing circles in June. Or it could be a right-wing congressman who freaked out about sharing a plane with Black Lives Matter activists flying to Washington, D.C., for the anniversary of the March on Washington.
Goodenough served as a Trump stenographer in a Sept. 17 article touting how "President Trump said Wednesday distribution of a safe and effective COVID-19 vaccine to prioritized recipients could begin as early as next month, but by November or December at 'the latest,' and suggested a speedier rolling-out to the broader population than that suggested earlier in the day by CDC Director Robert Redfield." He made sure not to mention that Trump's promise of a vaccine before the election is widely viewed as a ploy to get votes and to distract from his mismanagement of the coronavirus pandemic.
We've noted how Goodenough's reporting at CNS has evolved from relatively straight to unambiguously pro-Trump and anti-Democrat.
Posted by Terry K. at 1:15 AM EDT