MRC Goes A-Heathering Against Conserative Trump Critic, Fox News Host
Topic: Media Research Center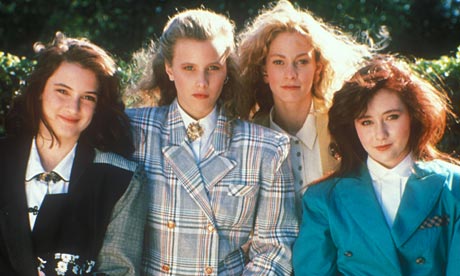 The Media Research Center has spent years Heathering itsd fellow conservatives who step out of line by failing to rigidly toe the conservative line. These days, though, Trumpism must be enforced, and the MRC will tolerate no dissent, even from those whose conservative credentials are impeccable (and Fox News hosts).
So when "Fox News Sunday" host Chris Wallace and conservative guest Jonah Goldberg criticized White House press secretary Kayleigh McEneny's unprofessional behavior in attacking journalists who dare to question the actions of the Trump administration, Nicholas Fondacaro went into full Heathering mode:
Fox News Sunday anchor Chris Wallace invited a panel to bash White House Press Secretary Kayleigh McEnany because she dared to stand up to the opposition press. Between Wallace taking it personally and the Never-Trump editor-in-chief of The Dispatch, Jonah Goldberg attacking her, it was like watching CNN.

Wallace's chief complaint was that McEnany had taken the White House pool to task for ignoring and downplaying the revelations in the corrupt investigation of Lt. Gen. Michael Flynn, and how the Russian collusion narrative was unraveling.

"I have to say that if Kayleigh McEnany had told Sam Donaldson and me what questions we should ask, that would not have gone well [for her]," Wallace bristled as he addressed Goldberg.

[...]

Wallace also repeatedly threw around how he used to be a White House correspondent back in the day with ridiculously biased Sam Donaldson. That being the case, Wallace should acknowledge the fact that every press secretary has acted as a spokesperson for the respective administration they work for.

Now, the argument can be made that McEnany's comments can be a little hot, but the hyperbolic rhetoric from Goldberg and Wallace was uncalled for.
Fondacaro -- who is a Trump true believer, incapable of considering that he or his administration is capable of doing anything wrong -- repeated his employer's old blame-the-media schtick: "But back in reality, the liberal media were the ones who had turned nearly every press briefing into 'gladiatorial arenas' since day one of the Trump presidency. One just needed to look at how CNN's Jim Acosta, Playboy's Brian Karem, and the plethora of other so-called 'journalists' who used the briefings to make themselves the news story."
This fit of Heathering is just another example of how the MRC has become an arm of Trump's re-election campaign.
Posted by Terry K. at 10:24 AM EDT