Non-Shocker: MRC Loved Chris Wallace As Debate Moderator, Because Fox News
Topic: Media Research Center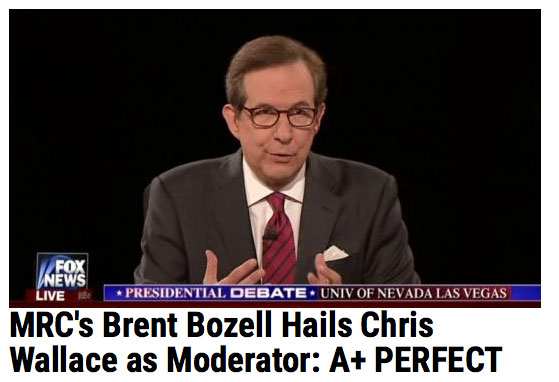 The Media Research Center's praise for Fox News' Chris Wallace's performance as moderator of the third presidential debate is utterly unsurprising. The fix was in from the beginning -- more specifically, since 2007, when Bozell demanded that Wallace be allowed to host a debate specifially because he would be Republican-friendly.
When Wallace was named a moderator, the MRC's Tim Graham cheered "the first nod to Fox News." The MRC had a curious hands-off policy on Wallace in the runup to his debate. While it cranked out working-the-ref articles detailing what it claimed to be the most "liberal" moments of earlier debate moderators Lester Holt, Anderson Cooper and Martha Raddatz, as well as mocking Matt Lauer's purported lack of gravitas before a presidential forum he moderated (Elaine Quijano was exempt because, according to Graham, "The MRC doesn't have a thick file on Elaine Quijano"), it did no such treatment for Wallace despite his extensive record. In fact, Graham insisted that Wallace wouldn't skew right: "Wallace won't want to look like a Trump booster, and the liberal media noted some tough questions in the primaries. The Washington Post in March hailed how Wallace set a 'bear trap' for Trump in a budget question."
When the earlier debates were over, MRC chief Brent Bozell rushed to attack the moderators. After Wallace's debate, Bozell was practically slobbering over the guy, giving him an "A+ PERFECT" grade:
Chris Wallace killed it tonight as moderator. He was perfectly fair to both, asking the exact same number of tough questions to both sides (eight to each). He asked the questions that his colleagues at CNN, CBS, ABC, and NBC refused to ask in the three prior presidential and vice presidential debates. His questions were substantive, relevant, issue-based, and focused on the records and quotes of the two candidates. He also remembered the first rule of debate moderating: GET OUT OF THE WAY. He was a total pro in every way, allowing the candidates to debate each other and explain themselves. I hope Fox's competitors took notes. This is how it's done!
Bozell offered nothing to back this up, just like he never bothered to back up any of his attacks on the other moderators.
He didn't have to, because none of his post-debate statements were based on actual performace. Wallace got slobbering praise because he works for Fox News, where Bozell and other MRC staffers appear regularly. The other moderators were bashed because they don't work for Fox and because bashing them furthers the MRC anti-media agenda.
So dedicated is the MRC to protecting Wallace that Graham went after one commentator who deviated from the "near-universal praise" for him.Graham, like Bozell, is ignoring that Wallace was not balanced and did put a right-wing spin on some questions.
That analysis would seem to bolster John Ziegler's argument that the MRC cares more about fundraising than serious analysis of media bias. Of course, noting such things only gets you smeared as a drunk by Graham.
Posted by Terry K. at 2:23 PM EDT