Anita Hill Derangement Syndrome Continues At The MRC After All These Years
Topic: Media Research Center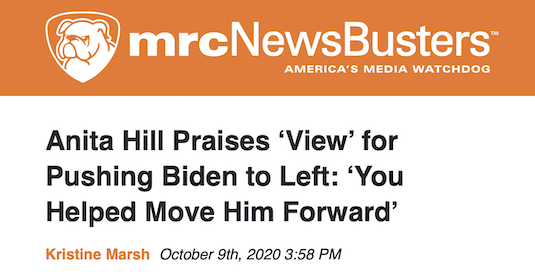 After nearly three decades, Anita Hill continues to live rent-free inside the collective heads of the Media Research Center. This year alone, Tim Graham -- the MRC's chief Hill obsessive -- ranted aboiut Hill when he was pushing Tara Reade's unproven sexual assault allegations against Joe Biden, and the MRC attacked her again in September when it was again pushing Reade.
Kristine Marsh was on Hill patrol for the MRC in an Oct. 9 post:
Anita Hill was warmly welcomed to The View on Friday, where she was immediately asked about her endorsement for Joe Biden. But the hosts refused to press her on the hypocritical nature of the #MeToo advocate endorsing the candidate who has been accused of sexual assault.

In fact, the hosts completely ignored Tara Reade, just like CNN and CBS did when they hyped Hill's Biden endorsement. Instead, co-host Joy Behar asked the Clarence Thomas accuser how she could endorse Biden, given he "wasn't really on her side" during the Supreme Court Justice's confirmation hearings in 1991[.]
Marsh further grumbled that "The hosts spent the rest of the interview talking about the activist's work combatting sexual harassment in the entertainment industry with the non-profit she chairs, The Hollywood Commission. " She then dismissed the segment as "ABC's work helping Democrat candidates get the approval of left-wing activists," though she failed to identify what, if anything, is "left-wing" about Hill.
True to form, Graham unloaded on Hill yet again in his Oct. 22 column bashing NPR's Nina Totenberg, huffing that she "made Anita Hill a legend with sexual harassment allegations against Clarence Thomas that were never proven. It was the very definition of a 'politically driven event,' a story leaked to Totenberg by Senate Democrats to sabotage the Thomas nomination. No one at NPR said that was an unvetted waste of time, a 'pure distraction.'" Graham is not going to admmit that his framing of Hill's accusations of Thomas as"never proven" also means they were never disproven.
One didn't even actually have to be Anita Hill to be trashed like her. Right-wing film critic Christian Toto attacked actress Kerry Washington because she "speaks out on political matters, campaigns on behalf of Democratic candidates and stars in projects with overt progressive agendas," citing her "starring role in Confirmation as Anita Hill" as an example.
What does it say about the stagnant research skills of the MRC that it remains so triggered by a woman who credibly made a sexual harassment charge against a conservative icon?
Posted by Terry K. at 2:33 PM EDT
Updated: Wednesday, October 28, 2020 2:36 PM EDT