MRC Latino Lies In Denying Hispanics Are Disproportionately Affected By COVID
Topic: Media Research Center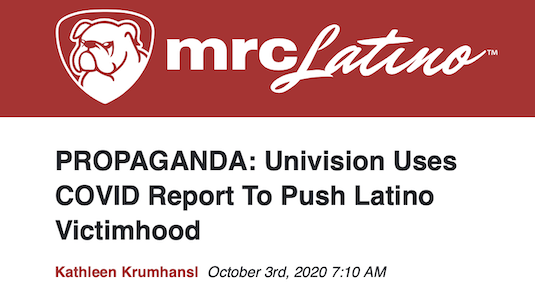 Kathleen Krumhansl ranted in an Oct. 3 MRC Latino post:
As the presidential election draws closer, the nation's liberal Hispanic nets are scrambling to shoot any and all propagandistic weapons in order to rid themselves of Donald Trump. At Univision, this meant turning the COVID pandemic into a Latino problem, and portraying Latinos as eternal victims.

Watch as midday anchor Carolina Sarassa opens the segment about a multimedia report on Hispanics and coronavirus, making the absurd claim that "we (Latinos) were the first to get sick, to die and to be out of a job."

CAROLINA SARASSA: To be Hispanic in the time of COVID-19 has had serious consequences. We were the first to get sick, to die and to be out of a job. Now, a Florida neighborhood shows how the virus severely hit a community marked by poverty. We now connect live with journalist Ana Elena Azpurúa to tell us more about what Hispanics face in the midst of this pandemic. Go ahead, tell us.

Not only is the claim baseless, but it comes across as yet another attempt to validate the segregation of Latinos as a Pan-Ethnic group living in the United States, and not as Americans.

According to the journalist interviewed by anchor Carolina Sarassa, the idea behind the study that features a Latino community in Florida, "was to show the double blow that Hispanics have suffered", "and they have also been particularly affected by the economic crisis, unemployment and business lockdowns as well." Sorry to break the bubble, but while Latinos have in fact, been badly hit by the coronavirus pandemic for a number of reasons, every other ethnicity not only in the United States, but worldwide, has suffered from the effect of COVID-19 in their health, income and wellbeing. COVID does not discriminate.
In fact, as even Fox News concedes, coronavirus has hit Hispanics disproportionally; CDC data from May through August shows that 24.2 percent of coronavirus deaths were among Hispanics, though they comprise 18.5 percent of the population. Dr. Anthony Fauci has pointed out that COVID-19 hospitalization rates are 359 per 100,000 among Latinos, compared with 78 per 100,000 in whites.
Further, Hispanics have been harder hit financially, expressing more worries about paying rent, child care or student loans than whites, and at the initial peak of the pandemic, Hispanic unemployment reached 18.9 pecent -- a record and much higher than that of whites.
In other words, Krumhansl is effectively lying to you. But she has a larger partisan goal in mind: At the end of her item, she demands that you read MRC chief Brent Bozell's "letter in strong opposition to the proposed rule change that would allow Univision to become 100% foreign-owned." She's so obsessed with Univsion, however, that she weirdly misidentifies Bozell as the "Univision founder."
Posted by Terry K. at 4:18 PM EDT
Updated: Friday, October 23, 2020 4:21 PM EDT