MRC Parrots Trump's Needless Freakout Over Ballots Thrown Away
Topic: Media Research Center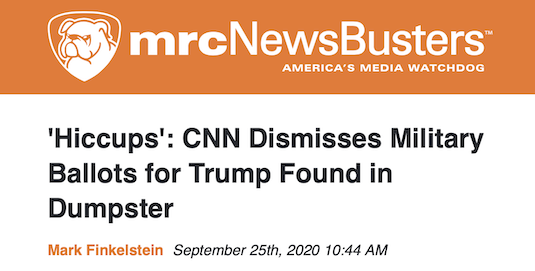 As the media arm of the Trump campaign, the Media Research Center believes it is its duty to bash media outlets for not reporting stories the way President Trump wants them reported -- even the facts don't exacctly back Trump up. Thus, we have Mark Finkelstein huffing in a Sept. 25 post:
It was another one of those liberal-media, "move along, nothing to see here" moments.

On CNN's New Day this morning, the crew did its best to utterly dismiss the significance of nine military ballots, seven of which were identified as being for President Trump [the two others apparently still sealed], having been found discarded in a Pennsylvania dumpster.

Co-host Alisyn Camerota conducted an echo-chamber conversation with CNN election analyst and ProPublica reporter Jessica Huseman. The pair took turns downplaying the importance of the troubling event:

"It hardly suggests any sort of widespread problem, whatsoever."
"There's really nothing about this that would suggest a larger problem."
"It does not suggest an overwhelming problem . . . I just don't think that there's any evidence of that."
"We don't know what 'discarded' even means."

Camerota put a dismissive capper on it, calling the ballots in a dumpster just "hiccups." Hold your breath and they'll go away.
Later that day, Kyle Drennen went full-on Trump defense, accusing MSNBC's Chuck Todd of saying that Trump was making up a story related to the case because "when we asked the White House for information to back up this claim about Trump votes being thrown in the trash, they sent us a report that did not back up his claims one bit.reported that the story was not only completely true but being investigated by the Justice Department."
But Trump's wording about case was misleading at best, suggesting that the ballots were throw away because they were votes for Trump. There's no evidence then or now that this was the case. Nevertheless, Drennen ranted: "It's interesting that any story that goes against the leftist media narrative is immediately disregarded and deemed irrelevant. Todd was so deep in the tank for Democrats that he preemptively called the President a liar, even as the anchor himself lied to his viewers."
But it turns out that CNN and NBC were right in their reporting that this was an isolated case. An actual news outlet reported that the ballots were incorrectly thrown away by a temporary contractor, who was removed when the incident was discovered.
Weirdly, neither Finkelstein nor Drennen thought it was odd that Department of Justice officials investigating the incident disclosed what candidate the unidentified -- after all, ballots aren't supposed to be counted until election night. One former DOJ official quoted by the actual news outlet found it "bizarre and disturbing."
MRC readers will never know the outcome of this case, however. Having performed its Trmp-mandated duty of fearmongering about mail-in voting, it hasn't mentioned the story again.
Posted by Terry K. at 9:03 PM EDT