Collusion? MRC Parrots Fox News With 'Ambush' Claim About Trump Town Hall
Topic: Media Research Center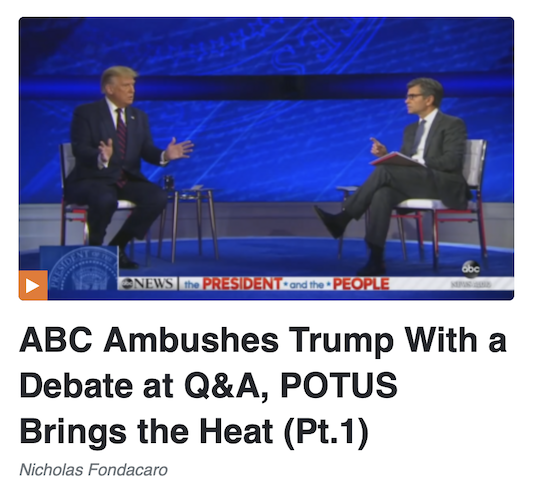 The Media Research Center has long been an aggressive defender of Fox News -- not surprising since they're both media arms of the Trump campaign. Butit seems the two might be so close they're working together to manufacture right-wing media narratives.
After President Trump sat down for a Sept. 15 town hall with ABC that didn't go the way the MRC hoped, Curtis Houck set the narrative: Trump was ambushed! Two entire posts were devoted to attacking ABC for asking Trump questions, under the headline "ABC Ambushes Trump With a Debate at Q&A, POTUS Brings the Heat." In the first, Nicholas Fondacarto complained: "What was pitched to viewers as a '20/20 Special Event' Tuesday, a town hall with President Trump, turned out to be the first 2020 presidential debate. But instead of Democratic nominee Joe Biden as Trump's opponent, the President squared off against ABC's chief anchor and Clinton lackey, George Stephanopoulos, who took every opportunity to battle his guest."
In the second, Curtis Houck echoed: "Billed as a presidential town hall with questions from undecided voters, ABC showed that they pulled a fast one on the American people as Tuesday's The President and the People: A 20/20 Special Event ended up being debate prep for President Trump as, instead of Joe Biden, he faced 90 minutes of hostility from chief anchor and former Clinton official George Stephanopoulos." He further whined that this was an "ambush by a liberal operative."
But not only was this take not original, it may have even been workshopped beforehand. Fox News host Laura Ingraham was portraying the town hall an "ambush."
So did they collaborate on their narrative? Who knows -- Houck and Fondacaro certainly aren't going to be forthcoming about it since they're true-believer Bozell-bots who would never, ever be critical of Trump or Fox News.
Meanwhile, Houck liked this narrative so much he clung onto it a couple days later. When a similar town hall with Joe Biden on CNN was purported less ambush-y, he invoked it again: "Illustrating the liberal media's purposeful and shameless carrying of water for Democratic ticket, CNN's presidential town hall was a cakewalk on Thursday for Joe Biden, thanks to no fact-checking, no snarky rebuttals, or major hostility at PNC Field in Moosic, Pennsylvania. That stood in stark contrast to the ambush President Trump faced on ABC Tuesday night in Philadelphia."
Hey, it's a Fox News-approved narrative. Why wouldn't the MRC run with it?
Posted by Terry K. at 10:55 PM EDT