MRC Censors New Trump Accuser As It Desperately Hypes Tara Reade
Topic: Media Research Center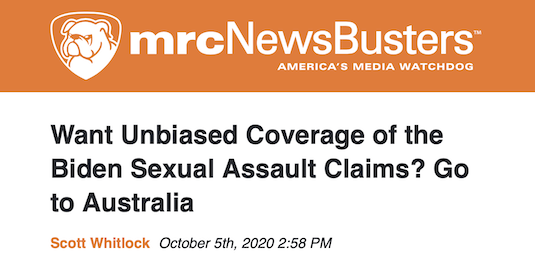 For months, the Media Research Center has obsessed over Tara Reade, the woman who accused Joe Biden of doing something untoward to her 30 years ago, hyping her claims as indisputably true even as it mocked and demeaned a woman who accused President Trump of assaulting her. It's still doing so.
In a Sept. 7 post, Brad Wilmouth complained that CNN had on Anita Hill -- another woman the MRC has mocked and demeaned for making sexual harassment accusations against a beloved conservative -- to talk about Biden while "Tara Reade's accusations of sexual assault against Biden were not mentioned at all." Wilmouth further complained: "Even though Anita Hill's claims against [Clarence] Thomas were entirely about inappropriate sexual talk, in contrast with the physical assault accusations against Biden by Reade -- who used to work in his Senate office in the early 1990s -- nothing at all was mentioned about the allegations against Biden."
Kyle Drennen took his own whack at Hill in a Sept. 29 post, smearing her as a "Supreme Court nominee smear artist" (never mind that Hill's claims about Thomas have never been disproven). Drennen sneered that Hill and CBS host Gayle King "discussed Hill's endorsement of Joe Biden for president, supposedly because he would combat sexual harassment. Tara Reade might disagree with that rationale." He added, "King refused to press Hill on Reade's accusation, instead concluding the segment by touting: 'I'm sure Joe Biden was glad to hear you're going to endorse him.'"
The same day, Alex Christy complained that a commentator pointed out before the first presidential debate that "Trump is not above pulling stunts," citing Reade as a possible example." Christy huffed in response: "It's not a stunt to ask the Democratic nominee if he believes in the standard of evidence he applies for himself or the standard his party applied for Brett Kavanaugh or that he himself has pledged to apply to college students as a matter of policy."
Whitlock returned on Oct. 5, going far afield to find some Tara Reade coverage that fit his antiBiden bias:
Journalists have been derelict in their duty of investigating last March's bombshell sexual assault claims against Joe Biden, providing cover for the Democratic presidential candidate. So you may be surprised to know that 60 Minutes on Sunday spent 12 minutes and 56 seconds investigating Tara Reade and talking to a witness who corroborates her story. Except... it was 60 Minutes Australia. NOT the CBS program that airs in America and might be helpful in educating voters a month before the election.

Instead, American 60 Minutes on Sunday devoted 13 minutes and 15 seconds to comedian Jerry Seinfeld and his new book. So they obviously wouldn't have time for Reade, right?

On the other side of the world, Australian reporter Alexis Daish talked to Reade on the subject of a slanted, biased media: "Unlike Trump's accusers, Tara has received a barrage of scrutiny. Do you feel as though if Joe Biden wasn't Joe Biden, your allegations would be taken more seriously?"

Reade called out the press: "Absolutely. If he was a Republican. I think the fact that he's an elite Democrat put him in this untouchable position and the media was biased and people were biased about it."
While Whitlock and the MRC were continuing to flog the Reade allegations in an attempt to breathe new lilfe into them, they censored yet another Trump accuser. In mid-September, model Any Dorris stated that Trump sexually assaulted her at the 1997 U.S. Open, groping her and "shov[ing] his tongue down my throat."
Whitlock concluded his column by asserting: "Believe all women... unless they're accusing a powerful Democrat who could be president." But he's a hypocrite; he obviously believes only women who accuse powerful Democrats who could be president, while powerful Republicans who already are president get a pass.
Posted by Terry K. at 8:41 PM EDT
Updated: Tuesday, October 6, 2020 9:15 PM EDT