CNS Invoking Chicago Violence To Help Trump Get Re-Elected
Topic: CNSNews.com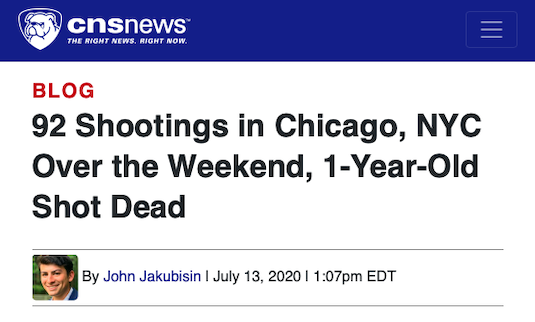 CNSNews.com loves to invoke reports of inner-city violence, particularly in Chicago, when it decides that it's advantageous to its right-wing political agenda to do so. Right now, President Trump has to be re-elected, and emphasizing such incidents is a key part of that. Thus, as a loyal Trump supporter, CNS has ramped up what it's already been doing.
In a June 29 article, Craig Bannister promoted a Chicago pastor who "called for a three-step response to the violence in his city that took the lives of 13 people, including a one year-old child, last weekend" in an appearance on Fox News.
John Jakubisin dutifully reported in a July 13 article: 'New York City and Chicago saw another weekend of violence with shooting victims totaling 64 in Chicago and 28 in New York City, including a 1-year-old boy, reported the local media Chicago Sun-Times and The New York Post." Jakubisin also repeated mostly conservative-friendly explanations of the violence: "The cause of the uptick in shootings remains unclear. Some have pointed to the economic downturn following COVID-19, while others have said the cuts to police budgets and presence have caused the increase. Officials with the NYC Police have indicated that prison releases and bail reform might be a significant factor as well."
Jakubisin did this again on July 20: "Violence continued in Chicago as 40 shootings left 58 people wounded and 9 dead over the weekend, according to WGN 9. New York City Mayor Bill de Blasio (D) and Police Commissioner Dermot Shea announced an "End Gun Violence" plan in reaction to the recent rise in shootings." He also highlighted "a $1 billion cut to the NYPD budget, supported by Mayor de Blasio." This continued over the following weeks:
July 27: "In Chicago over the weekend, 56 people were wounded and 3 others were killed by gun violence. The wounded included a 13-year-old girl, according to the Chicago Sun-Times." Jakubisin also called Chicago Mayor Lori Lightfoot a "left-wing Democrat."
Aug. 3: "Chicago saw another violent weekend in which 33 people were shot, 9 fatally, including a 9-year-old-boy, according to ABC 7 Eyewitness News. The weekend capped off the month of July which experienced a 139% increase in murders in comparison to July of 2019."
Aug. 10: "Over the weekend in Chicago, 40 people were shot, four fatally, and riots swept through the city Sunday night. In the District of Columbia, the nation's capital, 20 people were shot at a block party, including a 17-year-old who was killed."
This was joined by CNS featuring partisans invoking the violence for political reasons.
A July 7 article by Melanie Arter featured White House Press Secretary Kayleigh McEnany complaining that reporters were "not asking about the shootings that took place over the weekend in cities like New York City, Atlanta and Chicago."
Jakubisin touted how CNS' favorite right-wing radio host Mark Levin claimed that "Presidential candidate Joe Biden and his Democrat party [sic] had offered no policy or response to the recent uptick of inner city shootings."
Susan Jones gushed at how Republican Rep. John Kennedy asserted on Fox News that "Chicago is now the largest outdoor shooting range in America,"
Arter promoted on July 22 how "President Donald Trump announced on Wednesday that he is sending "a surge of federal law enforcement" into Chicago to help quell inner-city violence that has increased recently under the leadership of Mayor Lori Lightfoot and eventually into other U.S. plagued by an uptick in violent crime," uncritically repeating how he claimed that politicians have "put the interest of criminals above the rights of law-abiding citizens" for decades and are now embracing "the far left movement" to break up police departments as part of the Black Lives Matter movement, "causing violent crimes in the cities to spiral … out of control."
Bannister featured how right-wing activist Dan Bongino "praised the president for not taking the advice of those telling him to let Chicago continue to suffer the consequences of the anti-police polices of its Democrat leaders" in, yes, a Fox News appearance.
Arter was in stenography mode again in a July 23 article featuring Trump claiming that "Former President Barack Obama was at fault for the increase in homicides in Chicago in 2016, because he was invited in and could have solved the problem."
In an Aug. 11 article, Bannister touted how Fox News commentator Geraldo Rivera claimed that "his friends in Chicago tell him they're terrified by what's taking place in their city."
Jakubisin wrote in an Aug. 13 article on how "Chicago looters and rioters ruined the birthday celebration of 2-year-old Owen Buell, who lives with his family at the Chicago Ronald McDonald House while being treated for Stage 4 neuroblastoma, reported the Gateway Pundit."Jakubisin didn't mention that Gateway Pundit is a notoriously unreliable website that nobody should be quoting authoritatively.
Arter served up even more stenograhy on Aug. 17, featuring how "President Donald Trump posed the question to voters on Monday whether they want "the radical left policies" of Chicago, Minneapolis, and San Francisco imposed on the entire country" and invoking "the failed policies" of Lightfoot and other "left-wing Democrats."
Make no mistake -- CNS is focusing on Chicago violence to help Trump get re-elected, not because it cares about reporting news.
UPDATE: An Aug. 24 post by Bannister touted another fearmongering complaint by Rivera, touting how he "tweeted out the tally of shootings in Chicago over the weekend, introducing video of his Sunday commentary on how Democrats are ignoring the violence when blacks shoot and kill other blacks."
Posted by Terry K. at 12:41 PM EDT
Updated: Monday, August 24, 2020 4:59 PM EDT