MRC Went After Presidential Town Hall Moderators Too
Topic: Media Research Center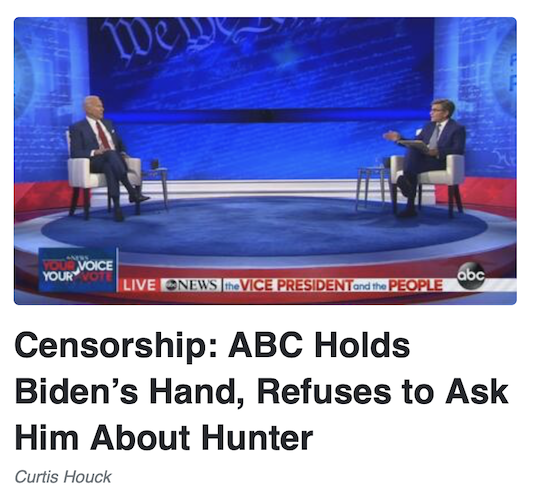 The Media Research Center's working-the-refs strategy of lashing out at debate moderators if they -- from the MRC's biased, highly skewed right-wing perspective -- dared to be too mean to President Trump or too nice to Joe Biden also extended to the moderators of the dueling town halls done by Trump and Biden in lieu of the second debate that was canceled when Trump caught coronavirus.
The MRC's biased agenda was laid out in an Oct. 15 post by Curtis Houck and Rich Noyes: "If fairness still counts for anything in 2020 (which we know is asking a lot), those networks will treat each candidate similarly to how they treated their rivals in previous town hall sessions."Of couse, since neither Houck nor Noyes would know fairness if they met it in a dark alley, they demanded the moderators be as biased as Fox News, with bullet points like "Most of the questions should challenge Biden from the right" and that ABC's George Stephanopoulos, who moderated the Biden town hall, "should paint Biden as a failure."
The MRC skipped the usual pre-debate ref-working against Stephanopoulos, but after the debate Houck went on a two-post tirade. In the first, he huffed that "ABC News cowardly [sic] refused to engage in even the most basic, adversarial journalism, refusing to ask former Vice President Joe Biden during their 90-minute town hall about his son Hunter Biden's latest reported acts of corruption" and declared the event to be an "in-kind donation to the Biden campaign" -- ironic, since Houck and the rest of the MRC are in-kind donations to the Trump campaign. Houck ranted in the second:
Thursday's dueling town halls between Joe Biden and President Trump couldn't have yielded a greater contrast with Biden receiving a rhetorical warm blanket for 90 minutes from ABC. Seeing as how they refused to bring up recent bombshell reporting on Hunter Biden, it was an abject failure. Making matters worse, ABC greased the skids with eight audience questions from the left, one neutral, and two from the right for a total of 11.

[...]

Unsurprisingly, ABC didn't take the advice Rich Noyes and I laid out Thursday morning as to how they should have conducted themselves.
Meanwhile, a pre-debate post by Geoffrey Dickens lashed out at NBC's Savannah Guthrie, moderator of the Trump town hall, huffing:"Savannah Guthrie is NO fan of Donald Trump, and if her recent attacks on him are any indicator — look for the NBC Today show co-host to pepper the President with nasty questions at tonight's Trump townhall event," then claiming to list what he called her "most liberal outbursts."
After the townhall, MRC ragebot Nicholas Fondacaro whined under the headline "We Called It!"
On Thursday morning, NewsBusters deputy research director Geoffrey Dickens predicted that NBC's Today co-host Savannah Guthrie would "go nuts on [President] Trump" in the town hall later that evening. And he was spot on with his prediction as she directed 25 liberal questions, comments, and other such biased interactions at the President.

That was in contrast to her nine neutral interactions and ZERO right-leaning interactions with Trump. But the audience questions were more balanced with three left-leaning questions, five neutral, and two right-leaning.

Not only did Guthrie have more interactions with Trump (compared to ABC chief anchor George Stephanopoulos having 19 with former Vice President Joe Biden in his concurrent town hall), but they also drug out as the town hall would devolve into a debate and even some shouting matches.
Bill D'Agostino complained that "Guthrie was several orders of magnitude harder on Trump than Lester Holt was on Biden last week" and that she "was combative right out of the gate."
The MRC concluded with a post by Scott Whitlock criticizing CBS for pointing out how badly Trumo wanted to be on TV after the debate got canceled:
CBS This Morning journalist Major Garrett on Friday could not resist an arrogant tone as he recapped Thursday's presidential town hall events. He mocked Donald Trump as "desperate" and returning "on bended knee" to get on NBC.

Talking to Gayle King, Garrett jeered, "President Trump did not agree to do the second debate, and then he realized he would be without a television audience to rival Joe Biden. So what did he do? He went on bended knee to that thing he hates the most in American journalistic life, the mainstream media."

The mocking continued: "Yes, he went back to his old familiar network NBC. He had to go back there to basically get an audience to compete with Joe Biden."
At no point did Whitlock dispute the accuracy of Garrett's perspective.
Posted by Terry K. at 7:51 PM EDT