MRC's Double Standard On Unidentified Partisans
Topic: Media Research Center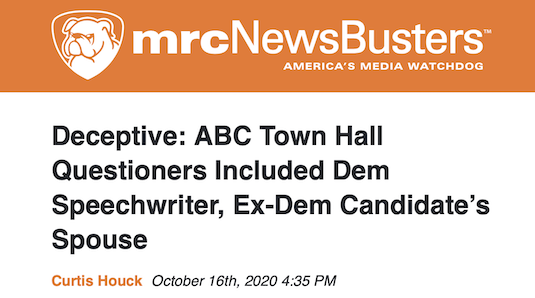 The Media Research Center loves attacking media outlets for their screw-ups -- except when those screw-ups interfere with the MRC right-wing narratives, as they did when CBS' "60 Minutes" screwed up a story on the Benghazi attack. The MRC ordinarily loves to bash the show, but it went completely silent on this chance to dunk on it.
The MRC just did it again. But first, let's start with Curtis Houck ranting in an Oct. 16 post:
Chick-fil-A is delicious, Jesus is Lord, the sky is blue, water is wet, and town hall questioners are covert liberal activists. As FoxNews.com reporter Tyler Olson found on Friday, two of ABC's Biden town hall "had ties to high-profile Democrats, including one questioner who previously worked as a speechwriter in the Obama administration."

And, no, that didn't include the fact that ABC chief anchor George Stephanopoulos was a Bill Clinton lackey in the early 1990s.

This came on the heels of how, just within the last month, ABC had liberal partisans in their September 15 Trump town hall and NBC featured "undecided voters" that were Biden supporters in their October 5 confab.

[...]

Despite the fact that liberal networks will continue lying to their viewers about the make-up of their town hall audiences, actual journalists and media observers shouldn't change their approach in fact-checking the backgrounds of the questioners.

Rather, they should redouble their efforts in light of the irresponsible and shameful lying on the part of the networks that claim to be working on behalf of the public interest.
OK, so the MRC believes that unlabeled partisans in what is supposed to be an unbiased forum is a bad thing. So when the New York Times did pretty much the same thing, Houck and Co. should be pouncing on it, right?
Well, not so fast -- because of who the subjects were. Last week, the Times published a story by reporter Elaina Plott on how "white suburbanites" in the Atlanta area are supporting President Trump for re-election. The Problem? Plott identified one woman as "an interior decorator, married with two children and a University of Georgia alumna" when she was, in fact, a Republican political consultant, and another source who leads the Georgia branch of the Republican National Lawyers Associationwas identified only as "an attorney in Atlanta."
The MRC not only didn't slap a "Deceptive" headline on this story -- even though this story first surfaced nearly a week ago, it has completely ignored by the MRC, despite the fact that it employs a writer, Clay Waters, whose sole job is to write about the New York Times.
But the subject matter isn't the only reason the MRC won't touch this. As with Lara Logan, the "60 Minutes" correspondent who screwed up the Benghazi story, there's a conservative-friendly reporter to defend: in this case, Times reporter Elaina Plott. She's enough of a conservative that she wrote for National Review, where she was a William F. Buckley Jr. Fellow. National Review still considers enough of a fellow ideologue that it gushed about how Buckley "loved it when his people could go 'mainstream.'"
The MRC likely doesn't want to draw such attention to its ideological fellow travelers, even when they're as biased as the purportedly "liberal" reporters they lash out against every day.
Posted by Terry K. at 11:42 AM EDT
Updated: Thursday, October 29, 2020 12:31 PM EDT