MRC Demands Trump's 'Animal' Insult Be Put Into Context -- But It Mocked CNN Reporter for Demanding Context Of His Words
Topic: Media Research Center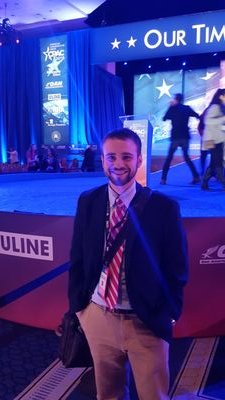 Following President Trump's remarks that appeared to smear at least some undocumented immigrants as "animals," the Media Research Center does what it's paid to do and rushed to Trump's defense, insisting despite his vague linking that Trump was referring only to the gang MS-13. Scott Whitlock complained Trump's words were "distorted," Nicholas Fondacaro called it "totally false," Curtis Houck bizarrely claimed that the media was defending MS-13 by merely acknowledging that they are human beings, and Fondacaro returned to claim that the media thought it was fair to allegedly take Trump out of context "given his past comments about immigrants."
The MRC might have a point if it wasn't so eager to take the peiople it despises out of context -- something, in fact, it did just a few weeks before.
In an April 24 post, Houck (pictured) insisted that CNN correspondent Jim Acosta was "attacking the intelligence of the American people" by saying that some people don't know that Trump's attacks on the media are an "act" and that "their elevators might not hit all floors."But Houck plucked those words out of context, editing out the fact that Acosta immediately said afterward that "My concern is that a journalist is going to be hurt one of these days. Somebody's going to get hurt." In other words, he was worried about the safety of himself and other journalists.
Houck merely paraphrased this important context as saying that "Acosta reiterated prior predictions that Trump's criticism of the press will result in someone getting hurt" and hid the fact that it's directly related to the "elevator" comment. The MRC loves to dismiss how some reporters on the Trump beat feel threatened.
The next day, Houck mocked Acosta for demanding that the right-wing media put his words in context, cheering how "conservative Twitter unloaded" on Acosta for demanding context "and, in a brief moment of indulgence, it was glorious."
Houck then included a fuller quote of Acosta "since he claims he's being unfairly attacked" (though he didn't mention that he was one of those who had previously published only a selective quoting of Acosta), then baselessly decided "there's no ambiguity there" -- again ignoring that Acosta was talking about threats to journalists.
Houck's hatred for Acosta is so personal and so unhinged (to use a favorite MRC term) that nothing he writes about Acosta should be taken as anything other than vindictiveness.
Posted by Terry K. at 7:48 PM EDT
Updated: Sunday, May 27, 2018 8:00 PM EDT