The MRC's Climate-Teen Meltdown
The Media Research Center has spent months heaping hate and scorn on Greta Thunberg for her climate-change activism -- but it has all but censored the far-right leanings of Naomi Seibt, conservatives' answer to Thunberg.
By Terry Krepel
Posted 3/11/2020
---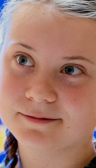 Greta Thunberg
Greta Thunberg is a British teen making her name as a climate change activist. And the Media Research Center has nothing but disdain and insults for her.

The MRC unleashed a torrent of hate against Thunberg last summer and fall -- when she sailed across the Atlantic Ocean to give a speech at the United Nations -- peppering its attacks with epithets like "radical, "extreme" and "bitter":

Jeffrey Lord capped off this round of insults by huffing in his Sept. 28 column: "Greta Thunberg is on the politically correct side of the climate change debate. Had she been on the opposite side one can easily imagine that she would have received a ton of Covington-style press, mocked and ridiculed endlessly for her ignorance." Apparently, the Covington-style press against Thunberg from right-wing outlets like the MRC doesn't count.

The insults and bullying have generally kept up steadily since then, with Hays emerging as the MRC's chief Thunberg bully. In a November post mocking her for a magazine recognizing her as among those who, in his words, "are contributing to the delusion and hysteria of the next female generation,: Hays sneered that Thunberg was a "tantrum-throwing, Swedish Climate Change child, adding: "She's definitely a nice caricature of the left, that's for sure. Her anger and resentful 'How dare you?!' speech has become the greatest internet meme depicting the left's tolerance."

In December, Hays ranted about the idea of someone making a documentary about Thunberg:
Oh, great, another super lefty is getting the fawning documentary treatment from Hulu in the near future. It was reported on Wednesday that everyone's favorite diminutive doomsday cult leader Greta Thunberg will be immortalized via documentary by the streaming platform. Ugh, no more, please! Ahem, we mean, Yay! Greta Thunberg's getting a movie everybody! She's so awesome (because saying otherwise means we're guilty of child abuse.)
Hays' Thunberg Derangement Syndrome flared up again in a Feb. 12 post incensed that another documentary about Thunberg was coming:
"Dora the Extorter?" "Exploited Development?" "How I Nagged Your Mother?" Whatever the eventual title, be afraid. Greta Thunberg is headed for TV.

During the BBC Showcase on Feb. 10, the network announced production of a docu-series on the life and and propaganda of the Swedish Scold. In a statement the BBC said, "The series will follow Greta's international crusade, which takes her to the front line of climate change in some of the most extraordinary places on earth as she explores what actions could be taken to limit climate change and the damage it causes."

So we'll see Thunberg (which definitely does not rhyme with "Funberg") yelling at hapless politicians and hobnobbing with concerned celebrities, interspersed with classic tearjerker shots of supposedly starving polar bears, and footage of the burning Amazon Rainforest. (Context-free footage that is, since many of the fires are necessary for the environment and global incidence of fires has been on the decline in general since 2003. But we digress.)

The statement continued: "as she travels Greta meets not only leading scientists but political leaders and business heavyweights, exploring the scientific evidence with them and challenging them to change." Oh gee, more viral 'How dare you?!' moments. That should be a ratings bonanza.

[...]

"The films will also chart her own journey into adulthood as she continues to be confronted by the real world consequences of inaction," said the Beeb. Sounds like a compelling case on borderline child abuse.
Never mind that Hays is the one talking like an abuser here, with his incessant, immature mockery and abject, unprofessional hatred of Thunberg.
Hays was far from the only MRC writer to be triggered by Thunberg, though. Kyle Drennen complained that "radical teenage climate crusader" Thunberg was named Time magazine's person of the year with no mention of "Thunberg's extreme beliefs." Kristine Marsh dismissed Thunberg as a "radical Swedish teen climate change activist," whining that "The media has spent months propping up the 'climate crusader' with dozens of fawning reports that skip over her extreme beliefs."
Looks like a few someones got a memo to push the narrative that Thunberg is "radical" and "extreme."
In January, Marsh defended vicious right-wing attacks on Thunberg by playing the Covington whataboutism card:
It seems only liberal kids are "off-limits" to the media. The media had no issues smearing a group of Catholic teens as racists for smiling while a liberal activist beat a drum in their faces. Several outlets had no problem attacking President Trump's teenage son for doing...absolutely nothing. Meanwhile, a Swedish teen radical who thrust herself into the global spotlight, lecturing world leaders for "stealing her dreams and childhood" gets the royalty treatment by the media and even Hollywood.
As much as Marsh would like to believe otherwise, making a mild pun on Barron Trump's name in congressional testimony was not an "attack" on him, though the MRC has had no problem with actual attacks on the minor children of Democratic presidents.
In a Jan. 28 post, Sadi Martin called Thunberg a "fanatic," huffing: "The leftist media loves to try and push the idea that those who are 'fighting' for whatever cause is most popular to them are heroic, but trying to compare a 16-year-old girl who is known for screaming at world leaders for 'ruining the planet' while doing basically nothing to actually solve what she sees to be a problem is a pretty big stretch, to say the least."
Even the most benign action by Thunberg triggers the MRC. In a Feb. 9 post, Rachel Peterson grumbled: "Hollywood's favorite 17-year-old climate change expert Greta Thunberg kicked off the documentary mash-up during the Oscars on Sunday night. In a montage, she thanked David Attenborough for getting her interested in the environment through his documentaries." Yes, the MRC attacked Thunberg for saying something nice about a filmmaker.
Saying nice things about Thunberg also puts you in the crosshairs. In a Feb. 8 post, Tim Graham was apoplectic that actor Harrison Ford praised her, insulting his (and Thunberg's) intellectual capabilities in the process:
It's fascinating that a movie star with no science degree is hailing the "wisdom" and "disclipline" of science in the same breath as he hails a 17-year-old high school dropout with no science degree. The "young people" Ford is touting have no scientific degrees. In that "ideological campground," as long as you're on the "right side of History," so you don't need to know all the science.
Funny how education and expertise suddenly become important when it suits the MRC's conservative agenda. A few years ago, the MRC demanded coverage of a right-wing petition criticizing climate change even though few of the petition's signatories had any relevant education or expertise in climatology.
Actual extremism from "conservative Thunberg" gets a pass
The MRC's Alexander Hall came to the defense of a newly minted conservative answer to Greta Thunberg in a Feb. 25 post:
A 19-year-old German woman is being hailed as the conservative response to climate change activist Greta Thunberg. She has condemned climate alarmism as a "despicably anti-human ideology," and liberal journos are heated about it.

Naomi Seibt encourages rationality in the face of climate alarmism and is seen as the conservative answer to climate change activists like Greta Thunberg. She is currently being supported by libertarian think tank The Heartland Institute, and was reportedly hired as the figurehead of its campaign to question the scientific consensus about climate change. "If imitation is the highest form of flattery, Heartland's tactics amount to an acknowledgment that Greta has touched a nerve, especially among teens and young adults" The Washington Post wrote in its Feb. 23 coverage.

The outlet went on to describe Seibt as the "anti-Greta." Liberal commentators were shocked, ranging from slurring the German teenager as a "NAZI" to theorizing the apocalyptic conspiracy that she is "paid to speak nonsense to convince people to continue business as usual and poison us all."

Aside from Seibt's arguments against climate alarmism, journalists have specifically come after her for associating in any capacity with the Alternative for Germany (AfD) party. The AfD was described in the article as "the biggest opposition party in parliament." The Post quoted one former AfD leader Alexander Gauland, when he vowed they are fighting "an invasion of foreigners.
Unfortunately for Hall, the "Nazi" attack is not as far off the mark as he would like you to think it is. The BBC has documented just how far-right the AfD party is, and it's not just an anti-immigration party:
The party's leader in the eastern state of Thuringia, Björn Höcke, once described Berlin's Holocaust memorial as a "monument of shame" and called for a "180-degree turnaround" in Germany's handling of its Nazi past. Picking up the same theme, Alexander Gauland trivialised the Nazi era as "just a speck of bird's muck in more than 1,000 years of successful Germany history".

The AfD has managed to attract voters from the centre right and even the centre left but in the words of Verena Hartmann, a moderate MP who left the party in January 2020 because it was becoming to extreme: "Those who resist this extreme right-wing movement are mercilessly pushed out of the party."

In the words of Matthias Quent, a German expert on the far right based in Thuringia: "Not everyone in the AfD is ideologically far right, but anyone in the party or even voting for the party is supporting a party that has a far-right objective."

[...]

Alexander Gauland, a 78-year old lawyer, has been with AfD from its Eurosceptic start and his political career began decades earlier with the centre right.

As AfD moved to the right so did he, making a number of remarks condemned as racist. In 2016 he talked about footballer Jérôme Boateng, who was born in Berlin to a Ghanaian father. "[Germans] like him as a football player. But they don't want to have a Boateng as their neighbour."

[...]

Alexander Gauland drew criticism for declaring that Germans should be "proud" of their soldiers in both world wars. While SS units were notorious for German atrocities in World War Two, the regular armed forces also committed many war crimes.

[Former AfD leader] Frauke Petry once tried to end the taboo on the Nazi-era term völkisch, which comes from the German word for people but was hijacked by the Nazis to define those they saw as belonging to the German race.
Additionally, Seibt has cited as an "inspiration" Stefan Molyneux, an advocate of white nationalism, eugenics and "scientific racism." At the recent CPAC gathering of conservatives, Seibt said she still considers herself a "fan" of Molyneux. Interestingly, the MRC's NewsBusters and CNSNews.com both published a 2018 column by Michelle Malkin whitewashing, as it were, Molyneux as an "author and philosopher."

Seibt also got caught complaining that Jews are "at the top" of groups seen as being oppressed, while "ordinary Germans" are at the bottom. (Seibt claims the remark was taken out of context.)

Extremism aside, Hall also failed to mention that even his fellow conservatives have been critical of the Heartland Institute using Seibt. Brad Polumbo of the conservative Washington Examiner wrote: "Groups such as Heartland are free to question the science of climate change. But if they want to avoid looking like massive hypocrites, let alone convince anyone, they ought to present arguments and evidence, not hide behind teenage YouTube trolls looking for five minutes in the spotlight."

But narratives are more important than facts at the MRC, so the full truth about Seibt must stay hidden -- while the Thunberg-bashing continues unabated.
The latest from