WND Keeps Up The Coronavirus Conspiracy Theories
Topic: WorldNetDaily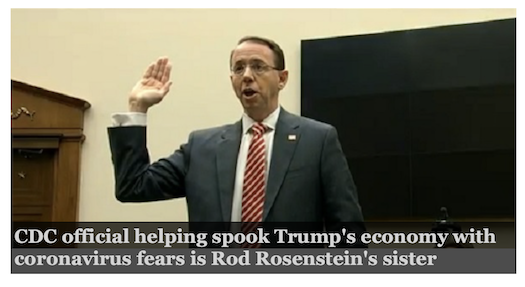 Ever the conspiracy-monger, WorldNetDaily has pushed conspiracy theories about the coronavirus.
We already noted how WND repeated a Western Journal article blaming "leftist communities" for the coronavirus. WND also uncritically promoted the goofy-but-dangerous claim from Limbaugh that the coronavirus was no more serious than the common cold and likely "a ChiCom laboratory experiment that is in the process of being weaponized" and is being used by the media to attack President Trump.
WND had another conspiracy theory in a Feb. 25 article that uncritically quoted self-proclaimed China expert Steven Mosher pushing the bogus theory that the coronavirus was developed in a laboratory in Wuhan, China, and spread because "Some Chinese researchers are in the habit of selling their laboratory animals to street vendors after they have finished experimenting on them."
WND also repeated Republican Sen. Tom Cotton's similar claim that the coronavirus escaped from a Wuhan laboratory in a Feb. 1 article republished from the Western Journal. Actual experts have shut down Cotton's conspiracy theory.
WND then attacked a prominent federal health official -- not for any false claims she made, but because she's related to the wrong person. The Western Journal's Jack Davis huffed in a Feb. 28 article:
An intriguing connection related to one of America's top health officials at the center of the national discussion over the potential severity of the coronavirus in America has some wondering about a conspiracy, while others find only a coincidence.

Fears that the coronavirus will have devastating impacts beyond those already being registered around the globe have triggered a major Wall Street selloff. President Donald Trump has pushed back against the culture of panic.

But is there a political tinge to the pronouncements? Speculation that there could be rose after it was discovered that the health official making dire pronouncements about the impact of the coronavirus contrary to those offered by Trump is connected to another high-profile individual who was often at odds with the president -- former Deputy Attorney General Rod Rosenstein.

Rosenstein, who played a role in the firing of former FBI Director James Comey, had a checkered relationship with Trump. In 2018,The New York Times linked Rosenstein to an internal administration plot to record Trump in secret and then invoke the 25th Amendment, under which a president can be removed for being unfit to perform his duties. Although Rosenstein denied the claim, the accusation cast a shadow over his final months as deputy attorney general.

During a hearing to be confirmed to that post, Rosenstein submitted written testimony saying that his sister was "Dr. Nancy Messonnier and that "she is the Director of the National Center for Immunization and Respiratory Diseases at the Centers for Disease Control and Prevention."

This week, while the president was trying to reassure Americans that health officials were working to protect Americans, Messonnier was taking a different approach.

"It's not so much a question of if this will happen anymore, but more really a question of when it will happen," she said, according to NPR, adding that a "significant disruption" to Americans' daily lives is possible.

"We are asking the American public to work with us to prepare with the expectation that this could be bad."

The combination of her recent comments and her family connection has led some commentators to voice a concern that Messonnier might be pushing the panic button harder than necessary for motives that had nothing to do with health.
Again, Davis never offers any evidence that Messoninier said anything false, only that she "might be pushing the panic button harder than necessary" -- and, one can argue that her fears about the spread of coronavirus have since been proven correct.
But don't expect Davis or WND to apologize for falsely smearing Messonnier -- that's not their style. They care nothing about the truth and everything about defending President Trump.
Posted by Terry K. at 1:45 AM EDT