CNS Floods The Zone on Schumer Remarks, Omits Context
Topic: CNSNews.com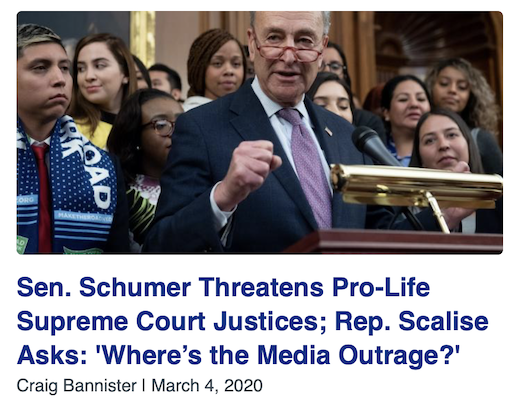 We've noted that CNSNews.com develops selelctive amnesia when reporting relevant details about conservatives but will flood the zone when it comes to negative news about non-conservatives. After cranking out eight stories about Nancy Pelosi ripping up her copy of President Trump's State of the Union address, CNS has done it again.
When Democratic Sen. Chuck Schumer said at an abortion-rights rally while the Supreme Court was hearing a case on the issue that Justices Neil Gorsuch and Brett Kavanaugh "have released the whirlwind and you will pay the price," CNS dutifully toed the Republican line by portraying Schumer's words as a threat against the lives of the justices and flooded the zone accordingly with the usual suspects for maximum right-wing outrage:
Five days later, CNS pulled its usual trick of sending interns out to pester congressment in a March 9 article by Bruce Truax in which he was forced to ask a Democratic senator what he thought of Schumer's remarks.
That's a total of 10 articles -- none of which note the fact that Schumer was simply repeating language that the justices themselves have used. As an actual news outlet (and Wonkette) pointed out, Kavanaugh attacked Democrats who opposed his nomination, claiming that they have "sowed the wind for decades to come. I fear that the whole country will reap the whirlwind."
Seems like relevant context, but CNS didn't tell its readers about it. Nor did it apparently report Kavanaugh's original remarks, let alone treat them as a threat.
By contrast, CNS published nothing about a threat by Republican Rep. Ken Buck in a video showing him holding an assault rifle and daring Joe Biden and Beto O'Rourke to take it away from him -- heavily implying he would shoot them dead if he did so.
This is what passes for "news" at CNS.
Posted by Terry K. at 1:25 AM EDT
Updated: Thursday, March 12, 2020 7:11 PM EDT