CNS On Coronavirus: Reality Intrudes On The Trump-Fluffing
Topic: CNSNews.com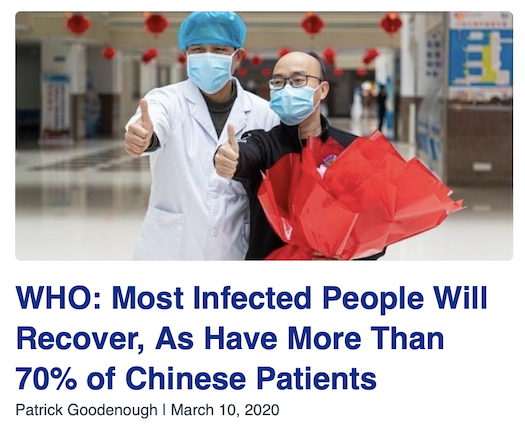 We documented that CNSNews.com's first week of major coverage of the coronavirus crisis was largely dedicated to minimizing the threat and defending the Trump administration's response to it.
Since then, CNS' coverage has featured even more minimization and Trump defense:
CNS' Susan Jones (of course) even devoted an article to how Nancy Pelosi "pulled out a tissue and wiped her nose" during her weekly press conference at which she talked about coronavirus.
But as the week went on -- and the coronavirus threat became impossible to ignore or downplay -- CNS remembered it was supposed to report news and added a dose of reality to its coverage:
CNS even noted Fox News host Tucker Carlson's criticism of the Trump administration's failure to take the coronavirus crisis seriously. But it also gave space to Fox Business host Trish Regan's unhinged rant that coronavirus was "impeachment all over again."
Still, even the stories that initially present as balanced are full of pro-Trump bias. A March 12 article by Melanie Arter carries the benign headline "McCarthy on Coronavirus Legislation: 'I Think We Can Get This Done in 24-48 Hours'," but it consists solely of Republican House Minority Leader Kevin McCarthy attacking Democratic proposals and failed to quote any Democratic response. And a March 10 article by Jones withthe headline "Rubio: 'There Could Be a Shortage of Critical Drugs in This County'" was actually a talking-point piece featuring the Republican senator pushing "the United States to take back the pharmaceutical production we 'gave away' to China."
The old CNS agenda staples continued: another attempt to make Joe Biden look goofy, in an anonymously written headlined "Joe Biden Advises Americans to Stop Hugging Each Other," and another rant from its favorite right-wing radio host, Mark Levin.Craig Bannister cheered capitalist profiteering in a March 13 post headlined "Enterprising Teen Sent Home, Gets Detention for Selling Squirts of Hand Sanitizer to Fellow Students."
CNS even touted writers trying to exploit the coronavirus outbreaks to advance their own agendas. Actor wife Sam Sorbo was given a column to rant that public education was a bad thing on par with coronavirus:
Caution is the better form of valor, and goodness knows we want our children to be safe, but we miss the bigger picture. Infecting the minds of our youth with what passes today for education but what clearly has morphed, over the years, into simple indoctrination, may have a worse effect than illness. There is, after all, the strong potential of recovery from illness, but the disease of liberalism — intolerance of the truth, and a reluctance to learn (all promoted in our government schools and institution of "higher learning") — is much more threatening. It poisons its victims with dangerous assumptions about political correctness, unearned self-worth, and gender confusion, not to mention the academic confusion resultant from the coerced Common Core agenda.

[...]

Parents who demand protection for their children from the infection of the body may realize they can simultaneously guard them from the degradation of thought rampant in our schools and colleges. Home education should figure among their options, as homes are deemed safest by health authorities. My book can help explain how easy it is to educate your child in a truly safe environment.

There is already a virus in your local schools, and its deadlier than the coronavirus.
Sorbo will never admit that homeschooling involves at least as much indoctrination as she claims public education does.
And homophobic CNS managing editor did an article promoting a fellow homophobe:
Bishop E.W. Jackson, a Marine, Harvard Law graduate, and great-grandson of Virginia slaves, said that promoting homosexual behavior is destructive and constitutes a "violent attack" on the family, especially in the black community, which faces many "family formation" problems including the absence of many real fathers.

He added that, though it will spark criticism, the gay movement is "the homovirus for the family." It is not like the physical coronavirus, he said, but it is damaging in a "spiritual and psychological" sense and is "the last thing you need in a community that is beset by gangs, and drugs, and violence, much of which can be traced back to the absence of fathers in the home."
The news may change, but not CNS' bias in covering it.
Posted by Terry K. at 2:40 PM EDT
Updated: Sunday, March 15, 2020 9:46 PM EDT