MRC Insists Soros' Survival In Nazi-Controlled Hungary Is 'Source of Great Controversy'
Topic: Media Research Center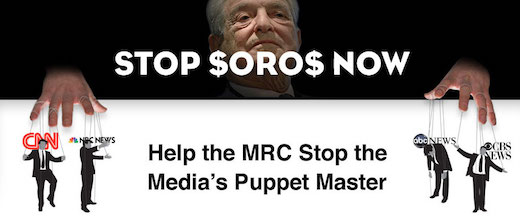 The Media Research Center has a weird obsession with George Soros, regularly freaking out over the money he gives to causes it doesn't like (and occasionally using anti-Semitic imagery in the process). It has even argued that it's not anti-Semitic to hate Soros. It's still trying to deny Soros his Jewish heritage.
Joseph Vazquez complained in a Nov. 14 post: "Accuse liberal billionaire George Soros of impropriety and you could be accused of anti-Semitism and be de-platformed. At least that's what the Open Society Foundations is allegedly saying should happen to lawyer and Fox News guest Joe diGenova." DiGenova had ranted without evidence that Soros somehow "controls a very large part of the career foreign service of the United States State Department." Vazquez gave diGenova a pass on that, complaining instead of the call to remove diGenova from Fox News (which seems to have happened, though that's more likely because of his involvement in President Trump's Ukraine scandal.)
In a Dec. 26 post, Brad Wilmouth groused that a CNN anchor had accused Rudy Giuliani of "anti-Semitism and hatred" through his bizarre insistence that he is more Jewish than Soros. Wilmouth responded by insisting that Soros' tale of survival in Nazi-controlled Hungary is a "source of great controversy":
Philip Bump of The Washington Post argued "that bizarre comment that he's more Jewish than Soros. He makes that after having said that the former ambassador to Ukraine Marie Yovanovitch, was under the control of Soros. So it is not only that he is, you know, assuming that he isn't enough Jewish, and not only that he's supporting these conspiracy theories broadly about Soros -- but he is spreading conspiracy theories very specifically about the person at the center of the impeachment without any evidence."

Coates and Bump did not clarify that what Soros did as a teenager to avoid persecution -- he posed as a Christian and even accompanied an official as he did inventory on a seized Jewish estate -- is a source of great controversy. Soros even stated in a CBS interview that he did not feel any guilt over what happened.
Actually, it's only a "source of great controversy" for Soros-haters like the MRC. Even the National Review article to which Wilmouth linked to prove this is somehow a "controversy" doesn't explain what's controversial about a teenager doing what he needed to do to survive the Nazi regime (in this case, posing as a Christian and helping a relative inventory Jewish property that had already been seized by the Nazis).
This is not the first time the MRC has done this; when Roseanne Barr falsely claimed that his survival tactic meant that that Soros was collaborating with the Nazis, the MRC merely dismissed her claim as an "anti-Soros tweet" without bothering to debunk it.
Wilmouth then went on to invoke right-winger (and Jew, he's quick to point out) Dennis Prager insisting that "Criticism of Soros is rarely a lie, and its intent is rarely to create anti-Semitism."
So how did the MRC go from the claim being "anti-Soros" to a legitimate" source of great controversy"? Perhaps Wilmouth can explain. But then, explaining the facts would get in the way of the MRC's anti-Soros agenda.
Vazquez returned with a Jan. 7 post freaking out that "Godfather of the left" Soros (which, of course, sounds a bit anti-Semitic too, though the MRC did an entire report attacking Soros' philanthropy with that as the title) being named philanthropist of the year by an organization, ranting that Soros is "bankrolling leftist causes" and "currently supporting Big Government causes in the U.S. such as gun-control and a wealth-tax." Vazquez then went on an evidence-free attack of the Soros-founded Central European University as having a "radical left-wing history" dedicated to teaching "Soros' own personal, bizarre leftist philosophy on "open society."
Vazquez concluded with one final slam of Soros as having an "egotistical vision." But are the Mercers who fund the MRC any less egotistical? Vazquez didn't say.
Posted by Terry K. at 5:02 PM EST
Updated: Tuesday, January 7, 2020 5:09 PM EST