MRC Whitewashes Roseanne Barr's Nazi Lie About Soros As Merely An 'Anti-Soros Tweet'
Topic: Media Research Center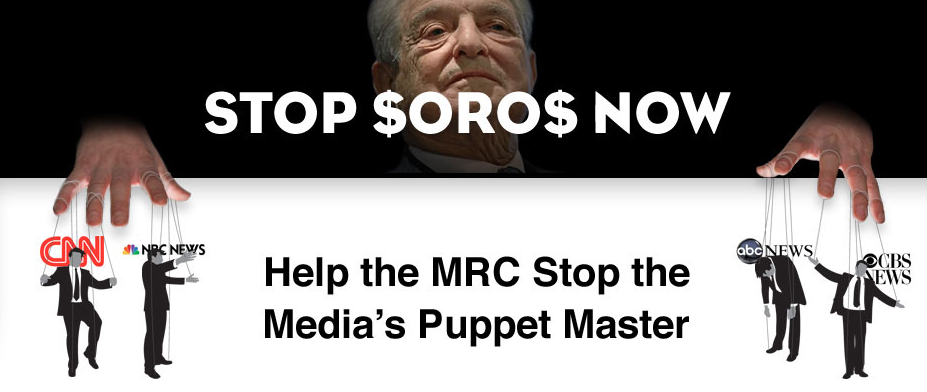 Like WorldNetDaily, the Media Research Center had a chance to correct a lie regularly spread in right-wing media circles. Like WND, it chose not to.
The MRC's Julia Seymour used a June 12 post to follow in WND's footsteps by summarizing a Washington Post interview with George Soros. Because the Post let Soros speak for himself rather than follow the reflexive Soros-bashing agenda the MRC does, Seymour huffed that "the article was flattering to Soros," adding:
The only Soros critics Kranish included were either promoting conspiracy theories about Soros, already controversial or downright reviled — for example, he mentioned a recent anti-Soros tweet by Roseanne Barr, as well as Russian President Vladimir Putin's complaint that Soros is a "threat to the fundamentals of the constitutional system."
But Barr's tweet was not merely "anti-Soros" -- it repeated the malicious lie that Soros collaborated with the Nazis during World War II when, in fact, he was a teenage Jew trying to avoid detection by the Nazis. The Post article specifically stated that about the Barr tweet, yet Seymour felt the need to whitewash it as merely "anti-Soros."
While we could find no instance of the MRC spreading this lie, it would have been the responsible thing for Seymour to point out that Barr's tweet was, in fact, a lie instead of whitewashing it. But then, that might have interfered with the demonization campaign the MRC has waged against Soros for years, which at one point denigrated Soros as "the godfather of the left" and used the vaguely anti-Semitic "puppet master" graphic shown above.
Posted by Terry K. at 12:45 AM EDT
Updated: Sunday, June 13, 2021 1:46 PM EDT