MRC Touts How A Film It Hated Tanked -- And Censored How A Film It Loved Tanked Even Harder
Topic: Media Research Center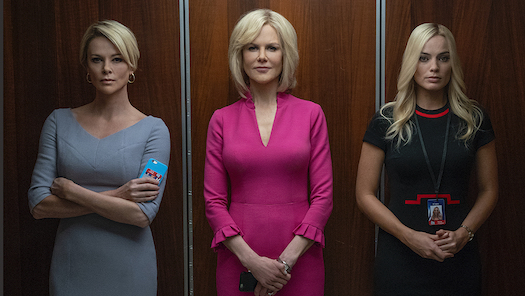 Like an ideologically driven Roger Ebert, the Media Research Center loves to attack movies that clash with its right-wing agenda, even mocking them if they fall short in box office receipts. It also promotes the heck out of movies that conform to its ideology, then censors the fact that they tanked at the box office. It's done a little bit of both lately.
The MRC beat up on the film "Bombshell," about the sexual harassment scandal at the Roger Ailes-led Fox News. For instance, right-wing movie critic Christian Toto contributed a post with the clickbait headline "What 'Bombshell' Stars REALLY Think of Fox News, Conservatives," and Tim Graham and Brent Bozell complained that this movie exists and not a "ripped-from-the-headlines TV dramatization of Harvey Weinstein's predations (Graham went solo in a post complaining about this "anti-Fox News film").
The capper on this was a Jan. 3 post by Randy Hall gloating that "Bombshell" has been "a flop at the box office, dropping from 6th place to 9th during its second weekend in wide release," even though "the film stars such well-known actresses as Charlize Theron and Nicole Kidman, who portray former anchors Megyn Kelly and Gretchen Carlson, as well as Margot Robbie, whose role is as producer Kayla Pospisil, a 'composite character' based on several FNC employees." He highlighted the film's "two-week take as almost $16 million while costing $33 million to produce."
Hall went on to cite The Hill's conservative media critic Joe Concha, who argued that the film tanked because nobody wanted to watch a film about a "polarizing" media outlet made by an equally polarizing Hollywood. But he failed what Concha also said about a different film that was tanking even harder:
"Bombshell's" poor showing comes as another media-themed movie is also struggling, in the form of "Richard Jewell." This Clint Eastwood film tells the story of the FBI and the media bungling the investigation into the 1996 Summer Olympics bombing in Atlanta and turning an innocent security guard, Jewell, into a prime suspect based on no evidence.

Box office since its December 13 release date: $16 million. Budget: $45 million
You might recall that the MRC loved "Richard Jewell," to the point that it effectively approved of Eastwood's false smearing of a real-life reporter by suggesting she slept with a source for story tips.
In his post, Hall linked to Box Office Mojo's box office take list for the final weekend of the year, but didn't mention that "Bombshell" grossed more money than "Richard Jewell" despite being on 1,000 fewer screens. And as of this writing, "Bombshell" has grossed more money than "Richard Jewell" despite never having as wide a release ("Bombshell" appeared on a maximum of 1,721 screens; "Richard Jewell" opened on 2,502 screens). Also, "Richard Jewell's" average daily per-screen take never topped $780, while "Bombshell" exceeded an average $1,000 take per screen on eight days.
"Bombshell" has been indisputably more popular than "Richard Jewell" -- by you'll never hear the MRC tell you that fact.
Posted by Terry K. at 1:16 PM EST
Updated: Friday, January 24, 2020 12:48 AM EST