How The MRC Learned To Love Ricky Gervais
Topic: Media Research Center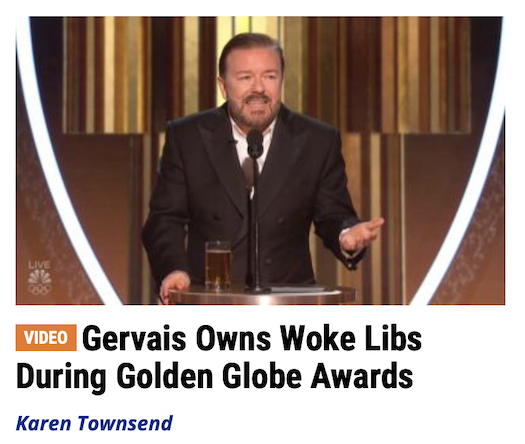 The Media Research Center used to hate Ricky Gervais. In 2011, Brent Bozell (well, Tim Graham) complained that the comedian "mercilessly insulted nearly everyone in Hollywood" in a Golden Globes hosting stint, adding, "Gervais wasn't doing winking 'just kidding' jokes akin to Don Rickles that night. They weren't even jokes. They were insults and they were brutal. ... The vaunted return of Gervais is just another living landmark of how the entertainment industry has put civility through the shredder and embraced mean-spiritedness with gusto." That hate continued:
But the MRC's opinion of Gervais beghan changing once his comedy targets became more acceptable to conservatives -- specifically, transgendered people.
When Gervais made retrograde jokes about Caitlyn Jenner in 2018, Clay Waters rushed to his defense, arguing that "Gervais was reasonably pointing out that the entire world knew Caitlyn Jenner for decades as Olympic winner Bruce Jenner" and denounced the New York Times for calling him out of step with the times. A few weeks later, Christian Toto lamented, "Ricky Gervais was beloved by the media right up until the release of his new Netflix special Humanity. Now, he's 'transphobic' and worse.
In July, Gabriel Hays similarly found Gervais' trasphobic humor acceptable:
British comedian Ricky Gervais has been called "transphobic" over defending women refusing to wax transwomen in Canada because they are uncomfortable dealing with their clients' very male genitalia. Gervais defended the spa workers saying that it's "real feminism" for women to choose who to wax or not, but internet users aren't having it.
Hays then declared that Gervais' joke showed he was "demonstrating himself as a celebrity that isn't completely devoid of common sense (a real showbiz unicorn, these days).
In November, Hays upgraded the MRC's view of Gervais from "vulgar" and "brutal " to merely a "politically incorrect mischief makert" because he once again, yes, made more transgender jokes, proudly crowing, "Despite the left's best efforts, cancel culture has not yet ousted Ricky Gervais." He didn't mention that his employer had been trying to work cancel culture against Gervais for years.
The 180 was complete when Gervais once again hosted the Golden Globes. Rather than see his attacks on the Hollywood crowd as "brutal" and "merciless," the MRC couldn't get enough of his insults. Karen Townsend gushed in a Jan. 5 post:
Kicking off Sunday's 77th Annual Golden Globe Awards on NBC, comedian and host Ricky Gervais, pulled no punches as he is known to do. He even voiced an opinion that must have had half of the viewing audience cheering. He told the stars and the others nominated for awards that if they should win, not to make a political speech because they know nothing about the real world.

Gervais assured all of them that though they think they are woke, they work for companies owned by some nefarious people.
Elise Ehrhard linked to Townsend's post to praise "more courageous comedy writers such as Ricky Gervais who are truly willing to attack powers that be," as compared to "Family Guy" creator Seth McFarlane, who "should ditch the tired scenes mocking Catholic clergy, which come at no cost to him."
Scott Whitlock served up more gushing in the midst of his stock MRC complaint that the "liberal media" won't sufficiently cover something that advances the right-wing agenda," cheering that "Gervais delivered a blistering, brutal attack on liberal Hollywood, Sunday night, bringing up awkward topics like covering up for Harvey Weinstein"
Hays name-checked Gervais' transphobic humor (which, again, he completely approves of, being more than a little transphobic himself) in his praise for the Golden Globes rant:
The U.K. comedian ribbed the wealthy movie-making elite with jokes about how out-of-touch and corrupt many of them are, and how they are "in no position to lecture the public on anything." Normal people watching found it hilarious and right on the money, however Hollywood apologists in the media wept for the sake of the celebrities.

Gervais' fifth time hosting awards promised to be a controversial outing, considering controversial is Gervais' usual shtick, and he had spent a chunk of 2019 combating the woke twitter crowd who called him "transphobic." Many were hoping for him to pushback while speaking in the belly of the progressive PC beast.

Stunned viewers got more than they bargained for when Gervais' opening speech blistered the glamorous attendees. He made jokes about their relationships with powerful sex offenders Harvey Weistein and Jeffrey Epstein and went the full nine in torching their political credibility.
Hays added: "Hollywood's full of hypocrites, and it might do better for everyone if they're told to their faces. Lefty media needs to get out of the way!"
Bozell and Graham completely ignored their criticism of Gervais' attacks on Hollywood in 2011 in cranking up their effusive praise for the new, conservatively correct Gervais, touting how he "set social media on fire after he mocked arrogant Hollywood in his opening monologue as host of the Golden Globe Awards. ... It was too accurate to be funny. It stung."The two didn't explainhow Gervais moved from hurling "insults and they were brutal" to being "too accurate to be funny."
Toto, the first at the MRC to praise Gervais' transphobia, unsurprisingly loved the new rant as well: "Gervais landed a haymaker against Woke Hollywood. He reminded viewers that many stars live lives disconnected from the struggles of their blue-collar fans. Hollywood celebrities aren't well versed in political science, technology or bio-engineering. Yet they demand we listen to their views as if they've studied these topics for years, if not 'decades.'" Toto went on to praise how "Gervais' scorched earth monologue" was "more than a simple series of jokes."
Amazing how far hating transgender people gets you in the right-wing media these days.
Posted by Terry K. at 9:27 PM EST