CNS Suddenly Interested In The Opinions of Buttigieg's Husband
Topic: CNSNews.com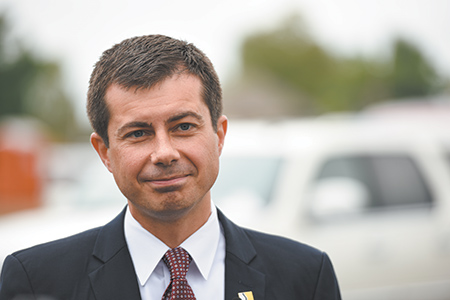 CNSNews.com's pattern of gay-obsessed and biased coverage of Democratic presidential candidate Pete Buttigieg has not really abated all that much. For instance, a Dec. 26 article by managing editor Michael W. Chapman on criminal justice reform included for no apparent reason the irrelevant statement that "Pete Buttigieg, 37, is openly gay and is 'married' to Chasten Glezman, 30, a high school teacher. The two men met on the dating app Hinge." This is the second time that Chapman has irrelevantly referenced that Buttigieg and his husband met on a dating app.
Curiously, though, CNS has become suddenly interested in the views of Chasten Buttigieg over the past couple weeks through anonymously written articles:
Dec. 27: "Chasten Buttigieg, the husband of South Bend Mayor Pete Buttigieg, currently refers to himself as the 'First Gent of South Bend' on Twitter and refers to himself as the 'First Gentleman' when he discusses what he will do if husband Pete becomes president of the United States."
Jan. 2: "When John Dickerson visited South Bend, Ind., to interview Pete Buttigieg and his husband, Chasten Buttigieg, for the April 21 edition of 'CBS Sunday Morning,' he asked Chasten when Pete first mentioned the possibility of running for president. Chasten said it happened 'when we were getting ready for bed and I was folding some laundry.'"
Jan. 3: "In an interview with CBS Sunday Morning, Chasten Buttigieg, husband of presidential candidate Pete Buttigieg explained why he became a school teacher. 'There's just something magical about working with kids and getting them to believe in themselves,' Chasten Buttigieg said in response to a question from host John Dickerson.
CNS served up other weirdness in an anonymously written Jan. 8 article, which covered something Buttigieg said on a talk show... four months earlier. The only apparent news hook in the article is a note that Buttigieg is tied for first place in Iowa caucus polling.
Posted by Terry K. at 3:02 PM EST
Updated: Saturday, March 28, 2020 11:37 PM EDT