MRC Lionizes YouTube Videomaker PewDiePie, Is Silent On His History of Offensive Content
Topic: Media Research Center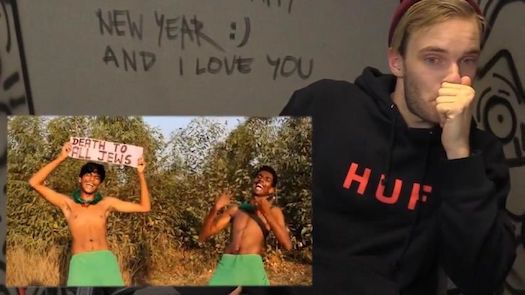 For some reason, the Media Research Center is enamored with YouTube videomaker PewDiePie -- we've already highlighted how it's trying to portray him as a champion of politically incorrect humor while hiding his history of far-right sympathies. Now it's trying to portray him as a "free speech" advocate of some kind. Alexander Hall wrote in a Dec. 16 post:
YouTube's Vice President and Global Head of Trust & Safety Matt Halprin released a blog on Wednesday, Dec. 11, titled "An update to our harassment policy." Halprin proclaimed in the blog that YouTube would be taking a harder stance on "malicious insults," "veiled threats" via simulated violence and "hate speech." Content creators ranging from gamers like PewDiePie to conservatives like Steven Crowder across the political spectrum saw this vague and slippery update as potentially damning for the platform's future.

Felix Kjellberg, better known as PewDiePie on YouTube, hosts one of the largest channels on the platform. He blasted YouTube's harassment policy update in a recent video, stating, "The thing I've learned about YouTube's policies is that it doesn't matter what they say. What matters is how they enforce it."

Content creators have warned about a potential flaw in the new harassment policy update, suggesting that old content that has already been posted and allowed to remain by the social media platform in accordance with previous YouTube policies may now be retroactively removed.

"Why retroactively take down videos?" PewDiePie asked. "If you're gonna make a new policy change, then go from there. Don't go back in old videos to say, 'Actually, this one, this one bad!' What does that fix?"
In portraying PewDiePie only as a "gamer," Hall didn't mention any of the guy's content he might have to worry about getting removed -- he has, after all, put up content described as racist, insensitive and anti-Semitic and got a shout-out from the perpetrator of the New Zealand mosque massacre. Hall also failed to mention that Crowder is best known for his rampant homophobia (which the MRC has defended) than being any sort of "conservative."
In a Dec. 30 post, Hall lionized PewDiePie as a "YouTube influencer" and "a leading content creator on YouTube for years" and touted how he "questioned the future of the entire platform and its relationship with its creators. Again, Hall failed to mention the offensive subjects of that content; instead he made sure to hype how PewDiePie is "the only solo creator to pass the 100 million subscriber mark" and presents his view as authoritative and not at all trollish: "As a leading creator he has watched a widening gulf between YouTube's corporate leadership and its community of grassroots creators who made it a thriving platform in the first place."
Posted by Terry K. at 10:01 PM EST