MRC Again Defends Conservative Journalist Who Tangled With Pelosi
Topic: Media Research Center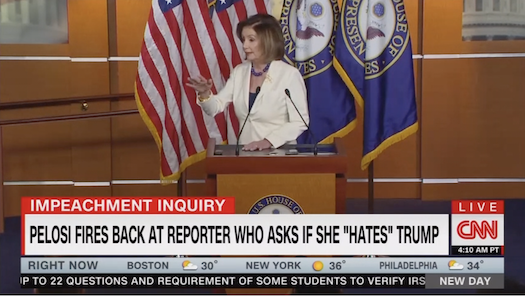 We've previously noted how defensive the Media Research Center is of right-wing reporter -- formerly of Fox News and currently with Sinclair Broadcasting -- when Nancy Pelosi calls out his bias. Well, Pelosi did it again, and the MRC defended him again after Rosen followed another Republican talking point by asking Pelosi if she wants President Trump impeached because she hates him.
Nicholas Fondacaro unsurprisingly took Rosen's side, pejoratively declaring that Pelosi's "anger flared as she lashed out in response (something they would have condemned President Trump for)," going on to complain about media coverage of the incident: "When President Trump slammed the press, it was a destructive attack on the First Amendment, our institutions, and our democracy. But when Pelosi did it, it was considered her just flexing her power."
Curtis Houck kept up the pejorative language, attacking Pelosi's "lashing out" at Rosen and complaining that "the liberal media decided to play it up as a testament to Pelosi's 'stunning' leadership."
Alex Christy grumbled that CNN "explicitly took the side of a politician railing against a journalist. Because the politician was liberal, and the journalist works for a conservative-owned set of TV stations. The words 'Jim Acosta' never crossed their lips." At least Christy admitted that Sinclair is conservative-leaning, which is progress. Of course, if Acosta had asked such a question of a Republican politician, the MRC would have lost its collective mind.
Krstine Marsh also bashed Pelosi for "angrily lecturing" and "lashing out at" Rosen, but she did concede he's a conservative reporter. She went on to huff: "This isn't the first time Pelosi has been hostile to Rosen. Just two weeks ago, Pelosi bashed Rosen as "Mr. Republican Talking Points," at another presser." Marsh refused to admit that characterization is accurate.
Houck whined in a Dec. 6 post:
While CNN host Jake Tapper has defended journalists on numerous occasions over the course of his career, he chose not to during Thursday night's CNN town hall with House Speaker Nancy Pelosi, allowing her to jab Sinclair Broadcast Group as not a real news organization and James Rosen as not a real journalist.

In other words, it was more of the route he took toward Dana Loesch and Senator Marco Rubio (R-FL) during the Parkland show trial.
Tim Graham complained that "Supposedly right-leaning New York Timescolumnist David Brooks once again demonstrated it's hilarious he's supposed to represent a more conservative point of view in the NPR and PBS week-in-review roundtables. He paid unctuous tribute on both networks Friday night to House Speaker Nancy Pelosi's slashing attack on Sinclair reporter James Rosen, going on to whine: "NPR offered no audio of Rosen, or the point he was trying to make -- which was Republicans claimed the impeachment attempt was because Democrats hated Trump. Neither did PBS. Putting reporters in context isn't important when it's time to praise Nancy Pelosi as she boasts of her devout Catholicism."
Yes, Graham has once again decided that context is an important thing after all.
Marsh returned to be appalled that comedian Stephen Colbert made comedy out of the situation, huffily adding: "Perhaps someone should inform his audience that Rosen was one of the conservative reporters who was spied on by the Obama administration. In the age where there is never enough outrage from the left over press freedom, Colbert sure doesn't seem to care about that, if the journalist isn't beholden to the Democratic Party."
If Rosen wasn't beholden to President Trump and Republicans, the MRC wouldn't give a damn about him.
Posted by Terry K. at 1:59 PM EST