CNS On Impeachment, Part 2: Copy and Paste
CNSNews.com loves to repeat the same pro-Trump talking points in stories on impeachment -- even doing stories days apart that featuring Trump's GOP defenders saying the same exact thing.
By Terry Krepel
Posted 12/23/2019
---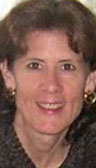 Susan Jones
In its slanted reporting on President Trump's Ukraine scandal and subsequent impeachment activity, CNSNews.com's most aggressive defender of Trump is reporter Susan Jones. Over the past month or so, Jones' idea of defending Trump over the Ukraine scandal has been adding chunks of the transcript of the phone call between Trump and Ukrainian President Volodymyr Zelensky to various CNS articles.

A Sept. 27 article by Jones complained that Rep. Adam Schiff, "with a straight face and no hint of a smile," was being criticized for "attributing words to President Trump that Trump never said." by serving up a parody version of the phone call. Jones responded by stating that "Here is what Trump said, according a memorandum summarizing the call," followed by several paragraphs of transcript" while helpfully inserting editorial comments like "Note that the 'favor' involves the origin of the Trump-Russia investigation" and "Note that Zelensky brings up Giuliani."

Jones also uncritically passed along Trump's transcript reference to Crowdstrike without mentioning that he's pushing a conspiracy theory.

In an Oct. 1 article ostensibly about a group Democrats seeking censure of President Clinton instead of impeachment, Jones again complained that Schiff was "misrepresenting what Trump said -- making Trump's words sound sinister -- in Schiff's opening statement at last week's committee hearing," then added that approximate section of phone call transcript, again inserting a "note that Zelensky brought up Giuliani's name and referred to 'all the investigations.'"

On Oct. 2, Jones groused that "Democrats, including their liberal media amplifiers, are making much of Mike Pompeo's reluctance to say whether he was listening to President Trump's July 25 phone call to Ukraine President Zelensky," copying and pasting the same selection of transcript from the previous day.

Jones took a break from wholesale transcript insertion for a while, then returned with an Oct. 30 article lamenting that the impeachable offenses Trump is alleged to have committed are so far vaguely defined (as permitted in the Constitution). Jones retorted with a summary of her usual Trump defense:
In his phone call with the newly elected Ukraine president on July 25, President Trump asked Zelensky to "do us a favor" that involved Ukraine's role in the Trump-Russia investigation. The "favor" had nothing to do with Joe Biden or his son Hunter.

Later in the conversation -- after Zelensky mentioned Rudy Giuliani and assured Trump that "all investigations will be openly and candidly" -- Trump said:
... followed by three paragraphs of cut-and-paste transcript.
Jones did punt on the transcript-pasting in an Oct. 29 article, linking to the White House website's version of the transcript and stating only that "The summary of Trump's phone call with Ukraine President Zelensky can be read here in its entirety." She later wrote up in normal journalistic style "the part of the phone call that sent Democrats into impeachment overdrive," then editorialized (in bad journalistic style): "The 'swamp' that Trump supposedly drained is now rising up against him, with the full support of Democrats and the liberal media."
(Weirdly, in none of these articles does Jones use Zelensky's first name -- too difficult to spell, apparently.)
But Jones' reliance on the White House-released transcript of the phone call may prove to be folly. On top of the transcript not being a fully accurate one -- it's based on "notes and recollections" of staffers who listened to the call -- one of the persons who actually listened to the call, National Security Council staffer Alexander Vindman, testified that he tried but failed to make the transcript more accurate by adding Trump's reference to the name of the company Joe Biden's son had worked for.
(Jones wasn't the only CNS writer to rely on the transcript; a Sept. 25 article by Melanie Arter on the release of the transcript included lengthy copy-and-paste sections.)
Jones does good condescending pro-Trump boilerplate too. In a Nov. 14 article, Jones hurled pro-Trump talking points at Nancy Pelosi after reporting her statement that Trump engaged in "bribery" in withholding military aid to Ukraine in exchange for a promise that the country would conduct an investigation into the Ukrainian company Joe Biden's son worked for:
For the record, the summary of Trump's July 25 phone call with the Ukrainian president does not show that President Trump threatened to withhold military aid in exchange for anything, although he did say the Ukraine president would be doing him a favor by looking into alleged Ukraine efforts to work against Trump in 2016. Later in that conversation, Trump brought up the Bidens, saying that their dealings with Ukraine sounded "horrible."
Unfortunately for Jones' boilerplate, it has since been revealed that Trump moved to withhold the aid as early as the beginning of July, and that Ukraine was likely aware of it at the time of the Trump-Zelensky phone call -- making the question of whether that was discussed during the call irrelevant.
Jones had some more talking points to spread around after repeating another quote from Pelosi:
"The president used power and violated his oath by threatening to withhold military aid and a White House meeting in exchange for an investigation into his political rival -- a clear attempt by the president to give himself the advantage in the 2020 election."

As Republicans have noted, the aid eventually flowed; President Zelensky never made a public statement about investigations; and both presidents said they were very satisfied with the phone call in which Democrats insist a bribe was made.
Jones conveniently leaves out the fact that the aid "eventually flowed" only after a Politico story uncovered the fact that Trump had blocked the aid, which blew up the negotiations with Ukraine to get an investigation announced. And it turns out Zelensky may not have been telling the full truth about the call; it's since been reported that he did indeed feel pressure from the Trump administration even before the call, and it's likely that Zelensky is publicly denying feeling pressure in an attempt to not upset Trump and keep U.S. aid flowing.
Jones used a Nov. 13 CNS article to lecture Rep. Adam Schiff for trying to keep the impeachment hearings focused on Trump's actions and not Republican obsessions over the Bidens:
Schiff, by shutting down questions about the Bidens and Ukraine's alleged interference in the 2016 U. S. election, is refusing to allow Republicans to explore what Trump apparently believed when he spoke with Zelensky on July 25.

Certainly Trump's personal attorney and close friend Rudy Giuliani believed Ukraine corruption impacted his client.

Giuliani has told various media outlets he spent months investigating "corruption at the highest levels of the Obama administration, which included illegal impact from Ukraine on the 2016 election. I was investigating this as an attorney to vindicate my client," Giuliani tweeted on Oct. 1. "It began and was largely done before Biden announced his run for President."

Giuliani alleges that Joe Biden "obstructed an investigation of Dem 2016 election interference" by forcing the firing of a former Ukraine prosecutor general.
Jones then spent several paragraphs once again summarizing the Trump-Zelensky call (as before, Jones once again omitted Zelensky's first name). She did, however, add a minor correction; after stating that Trump asked Zelensky to look into "a supposed Ukrainian link to the hacking of the DNC server," she parenthetically added, "The U.S. intelligence community blamed Russia, not Ukraine, for the hacking." But she also wrote:
In 2018, Biden bragged that as the sitting vice president, he threatened to hold up a U.S. loan guarantee to Ukraine unless that country's prosecutor-general was fired. Biden and other witnesses have said Biden was carrying out U.S. and international efforts to get rid of a corrupt prosecutor.

But at the time, Biden's son Hunter was earning big money by sitting on the board of Burisma, a Ukraine energy company owned by an allegedly corrupt oligarch whom the Ukraine prosecutors had been investigating.
That is false. In fact, the corrupt prosecutor, Viktor Shokin, was not investigating Burisma or much other corruption in the country, which is why the U.S. and the international community wanted him gone. Not only that, the prosecutor had actually been shielding the head of Burisma by refusing to hand over documents in a British probe of the company.
That seems like important information for Jones to tell her readers. But defending Trump is her first priority, not reporting all relevant facts.
Jones uncritically repeated another GOP talking point in a Nov. 14 article, this time copying-and-pasting testimony from Republican Rep. John Ratcliffe emphasizing that Zelensky (whose first name Jones once again failed to use) has denied feeling pressure in that notorious phone call with Trump:
I think everyone knows that House Democrats have made up their mind to impeach one president. The question that we've just learned is, whether or not they're prepared to impeach two.

Because to be clear, if House Democrats impeach President Trump for a quid pro quo involving military aid, they have to call President Zelensky a liar. If they impeach him for abusing his power or pressuring or making threats or demands, they have to call President Zelensky a liar to do it. If they impeach President Trump for blackmail or extortion or making threats or demands, they have to call President Trump (he meant President Zelensky) a liar to do it.
But as an actual journalist reported, Zelensky's words are more nuanced than CNS and the GOP are portraying:
Zelensky ran for the presidency on an anti-corruption platform, and won in a landslide. Admitting to giving in to pressure — or admitting to pressuring independent members of his government to conduct investigations — would mean not only losing bipartisan support from the U.S. Congress but also destroying his credibility among Ukrainians.

After the Sept. 25 meeting with Trump, Zelensky met with Ukrainian journalists, who immediately asked him for clarification. He said that for him, it was simple: He didn't want his words to be interpreted to mean that Ukraine would interfere in another country's elections. Still speaking Ukrainian, he added: "That's why I said, 'No one can pressure me. And no one will pressure me.' "

In both colloquial Ukrainian and in colloquial Russian, "he pressured me" does not mean merely "I felt pressured." Instead, it implies you've actually been compelled to do something. In Ukrainian politics, "pressure" (tysk) means not just applying pressure; it usually means that the person being pressured cooperated. In Zelensky's statement to Ukrainian journalists that "no one can pressure me," he was not commenting on Trump's action; he was clarifying his own response.

If Zelensky had wanted to convey that there truly was no pressure involved, he could have said, "No one tried to pressure me."
But CNS won't tell you that either, because it undermines the pro-Trump agenda its impeachment coverage is centered around.
The GOP talking-points parrot
CNS' recitations of Republican talking points are rarely as spot-on as one recent example shows. TPM summed up a Nov. 6 CNN report on remarks by Republican Rep. Jim Jordan:
Rep. Jim Jordan's (R-OH) reactions to the revised testimony of EU Ambassador Gordon Sondland and the testimony of special envoy to Ukraine Kurt Volker are night and day.

According to CNN Wednesday, Jordan dismissed the EU ambassador's revised testimony by saying that "it is Sondland's opinion." The three new pages of Sondland's sworn testimony released Tuesday confirmed that congressionally approved military aid hinged on the Ukrainian government's public support of an investigation into the gas company that former Vice President Joe Biden's son sat on the board of and the origins of the Russia probe.

Jordan specifically railed against the section of Sondland's revised testimony that states that he'd "presumed that the aid suspension had become linked to the proposed anti-corruption statement." Earlier Wednesday, White House counselor Kellyanne Conway took aim at the same section of Sondland's testimony.

Jordan then argued that Volker's testimony is a "definitive account." Volker's testimony, in which he claims that he wasn't aware of any quid pro quo, gave an inside account of how Trump's personal lawyer Rudy Giuliani pressured the Ukrainian government to help Trump dig up false allegations on his political rivals.
The same day, a CNS blog post by Craig Bannister on remarks by Republican Rep. Lindsey Graham echoed Jordan's talking point that Sondland offered an "opinion" that differed from the Trump narrative Trump-conforming while Volker spoke factually:
Sen. Graham also rebuked journalists for ignoring key testimony in favor of anti-Trump opinions – such as reporting that U.S. Ambassador Gordon Sondland changed his testimony to say he now "presumed" that Trump was offering a quid pro quo to the president of Ukraine during a phone call, while ignoring the fact that U.S. Special Envoy to Ukraine Kurt Volker testified that Trump did not[.]
Of course, Sondland is not "anti-Trump" -- he donated $1 million to Trump's inauguration committee, which presumably earned him his current post as U.S. ambassador to the European Union.
The Chalupa narrative
CNS has dutifully regurgitated the claims of Republican congressmen, particularly Devin Nunes, trying to build a Ukrainian conspiracy theory around a woman named Alexandra Chalupa:
Related articles on ConWebWatch:
In none of these articles, however, did Jones or Arter tell the full story of Chalupa -- presumably because that would expose the truth that anything Ukraine did regarding election interference was small potatoes compared to the systematic, large-scale interference conducted by Russia on behalf of Trump.

As that 2017 Politico article explained, Chalupa played a key role in helping to expose Trump adviser and campaign manager Paul Manafort's work in Ukraine. She stopped working for the DNC in mid-2016, but continued to pass along information about Manafort to other journalists. Chalupa has since said that the Ukrainian government did not engage in a Russian-like interference campaign, and that efforts to attack her like the Republicans are doing originally began with Russia.

Given that Manafort was later convicted and sent to prison for bank and tax fraud regarding the millions of dollars he was paid for his work in Ukraine, Chalupa's work could hardly be called "anti-Trump dirt" -- no, more like in-depth reporting. CNS won't tell its readers that, of course, since keeping the allegations vague makes her sound more sinister than she is.
Talking points on repeat
CNSNews.com is so slavishly devoted to the pro-Trump narrative on impeachment that it's just lazily rehashing the same Republican talking points.
For instance, an Oct. 31 article by Melanie Arter is headlined "McCarthy: This Is an Attempt to Undo the Last Election and Influence the Next One" and states:
House Minority Leader Kevin McCarthy (R-Calif.) said Thursday the impeachment is not just an attempt to undo the last election, it is an attempt to influence the next one as well.

Speaking on the House floor, McCarthy said "elections have consequences" and Americans "used their vote to choose who will work for them."

[...]

"It is about the integrity of our electoral process. Democrats are trying to impeach the president, because they are scared they cannot defeat him at the ballot box. That's not my words. That's the words of my colleagues from the other side of the aisle that has offered impeachment three different times," McCarthy said.

"This impeachment is not only an attempt to undo the last election, it is an attempt to influence the next one as well. This is not what Democrats promised when they entered the majority 11 months ago," he said.
Then, on Nov. 4, Jones wrote an article headlined "McCarthy: Democrats Trying to Change Outcome of 2016 Election and Influence the Next One," stating:
The Democrats' impeachment inquiry is a partisan effort to undo the last presidential election and influence the one coming up, House Minority Leader Kevin McCarthy (R-Calif.) told CBS's "Face the Nation" on Sunday.

"Never in our history have we ever moved through with what's such a partisan impeachment movement. This is unheard of," McCarthy said.

"And what they're trying to do -- remember, what is today? November 3. We are exactly one year away from Americans going to the polls to vote for the president. They're trying to change the outcome of 2016 and influence the next one."
That's right: CNS devoted two articles five days apart to pushing the same exact talking point by the exact same Republican politician, albeit in two different places.
That's some serious dedication to pushing a narrative. Or is it just that CNS editors don't actually read the website they work for before posting stories to it?
But then, as with its Media Research Center parent, perpetuating Trump-friendly political narratives comes before reporting the full truth at CNS.