Mysterious MRC Sports Blogger Goes On An Obama-Derangement Rant
Topic: Media Research Center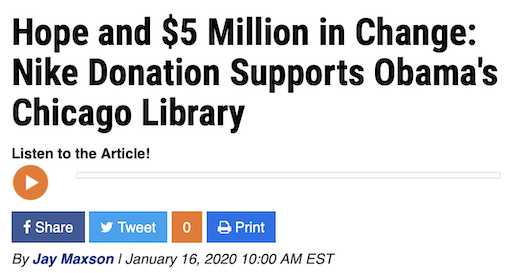 Mysterious Media Research Center sports blogger Jay Maxson is taking a break from his typical Colin Kaepernick derangement to engage in some old-school Obama derangement. Maxson used a Jan. 16 post to complain that Nike donated $5 million to help build a public health facility that will operate with the Obama presidential library in Chicago.
Of course, the headline on Maxson's piece says something different: "Hope and $5 Million in Change: Nike Donation Supports Obama's Chicago Library." Maxson's headline falsely suggests that the money is going to the library itself and something political. Maxson then declared that "The Obama donation is another statement by Nike reinforcing its far-left progressivism."
Yes, Maxson really thinks Obama was "far-left" -- though it might look that way to anyone as far right as Maxson and his MRC colleagues.
But Maxson is more interested in putting hateful opinion before fact. He/she sneered that the library and athletic facility is an "idealistic creation" and is designed "for the Obamas to glorify the people they admire most -- themselves." Maxson forwarded speculation about construction, wondering "if the plans ever move beyond the blueprints and gloating over a report that fundraising to build the library has been a challenge, huffing: "Perhaps if the Obama presidential legacy included more meat than basketball, the donation dollars would be rolling in fast and furious by now."
Maxson managed to work in one more golden-oldie potshot at the former president: "So far, there's a whole lot more symbolism than fresh concrete on Chicago's South Side. In fact, the inaction of donors are not exactly a vote of confidence for the former president. And if Barack Obama said, 'You didn't build that,' this time he'd be correct."
The fact that Maxson was making a eight-year-old reference doesn't mean it wasn't taken out of context, as the MRC has loved to do.
Posted by Terry K. at 11:41 PM EST