Brent Bozell, Terrible Tweeter
Topic: Media Research Center
We know that Media Research Center chief Brent Bozell is generally a terrible person -- after all, he had his syndicated column ghost-written for him for years. Perhaps unsurprisingly, Bozell is also bad at tweeting, writing things that his MRC writers would mock if he wasn't their boss.
In the midst of the impeachment hearings in November, Bozell responded to the testimony of Gordon Sondland, President Trump's ambassador to the European Union, Bozell harrumphed: "Listen to Sondland and you'll understand why America elected Donald Trump president to get rid of people like Sondland."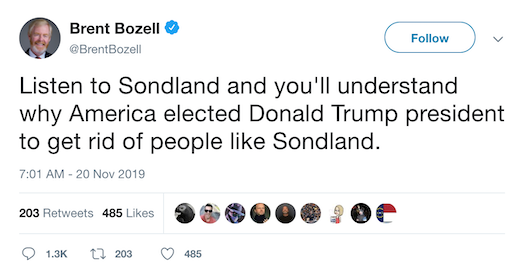 Many people informed Bozell that not only did Trump had appoint Sondland to his ambassadorship, Sondand was a Republican bundler who donated $1 million to Trump's inaugural committee, swampy behavior that presumably helped him get that ambassadorship. The tweet eventually got so badly ratioed that Bozell deleted it.
A month later, Bozell did some legal blue-skying in asking the immortal question, "Is 'obstruction of justice' a bad thing?"

Bozell did not seem to understand that the self-evident answer to that question is "yes." After enough people told him so, ee similarly made that tweet disappear as well.
If Bozell serves up those kinds of pearls of wisdom when left to his own devices, perhaps it was a good thing that Tim Graham ghost-wrote all those columns of his.
Posted by Terry K. at 12:02 PM EST