CNS Serves As Candace Owens' Stenographer, Censors Her Controversies
Topic: CNSNews.com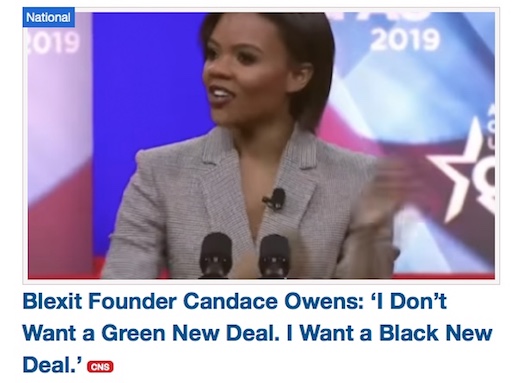 During the right-wing CPAC convention earlier this month, CNS went into stenography mode on several speakers -- for instance, devoting three entire articles to Vice President Mike Pence's speech alone. And Melanie Arter was locked into total stenography for a lengthy March 5 article:
Candace Owens, director of communications at Turning Point USA and founder of the Blexit movement encouraging blacks to exit the Democratic Party, said Friday that she doesn't want a Green New Deal, she wants a Black New Deal.

"I say I don't want a Green new Deal. I want a black new deal. And the good news, Alexandria Ocasio-Cortez, is that that actually can be free. It doesn't cost $93 trillion," Owens said in a speech at the Conservative Political Action Conference (CPAC).
Nowhere in her lengthy article did Arter mention a little controversy from just a month earlier in which Owens responded to a question about pushing nationalism in the U.S. when it didn't end so well in Nazi Germany by responding: "If Hitler just wanted to make Germany great and have things run well — OK, fine. The problem is he had dreams outside of Germany. He wanted to globalize. He wanted everybody to be German." After getting backlash for her failure to understand Nazi Germany, Owens blamed "leftist journalists" for unearthing the remarks and conceded that, yes, Hitler was bad.
Arter went on to uncritically repeat a dubious talking point from Owens:
She said she questioned how the left loved Donald Trump before he announced his candidacy for president and then hated him 24 hours later.

"I questioned at the time, is it really possible that a man that was loved by the media, Donald J. Trump – they loved him – loved by black America – every hip hop song that I listened to growing up, they wanted to be like Trump. Beyonce and Jay Z were sipping poolside at Mar-a-Lago. He was the dream. Obama said that the American dream was to be like Trump," Owens said.

"Was it really possible that within 24 hours of declaring his candidacy for the White House, he became a racist, bigoted, homophobic, sexist rapist at one point, right? Was that really possible, and I said of course, no that's it's possible. There's absolutely no way that's possible," she said.
As we've noted, there was plenty of evidence of Trump behaving in a racist manner long before he was president.
Arter also uncritically repeated Owen's claim that she "questioned how the Democratic Party, which 'instituted slavery, Jim Crow laws, racial terrorism in the KKK,' had the black vote,"which ignores that the answer is not that difficult to find -- driven in large part by Democratic support for civil rights laws in the 1960s and Republican opposition to same -- had Owens and Arter bothered to look.
And as for Arter definitively describing Owens as "founder of the Blexit movement," that's not exactly true either. The actual founder claims that Owens co-opted her movement and has threatened to sue Owens over it.
Posted by Terry K. at 10:40 AM EDT
Updated: Monday, March 18, 2019 12:22 AM EDT