MRC Joins Right-Wing Revenge Mob Against Reporter
Topic: Media Research Center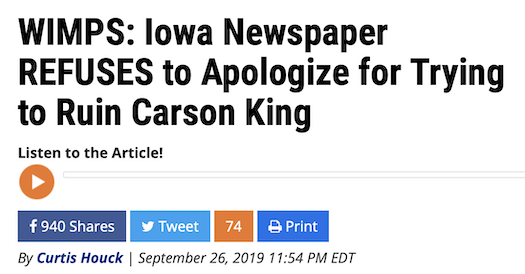 Revenge is rarely justified and never pretty, as we've seen when the Media Research Center does it. That doesn't keep them from engaging in that ugliness again, of course.
The story begins with a Iowa man, Carson King, whose sign pleading for more beer money via his Venmo account appeared on ESPN's college football show and he got thousands of dollars in contributions, which he ended up donating to the local children's hospital; additional donations pushed that amount to over $1 million. A Des Moines Register reporter looked into his background and found some offensive tweets he had issued during high school, which prompted a pre-article apology from King.
But the right-wing media is always in search of a new victim, and King fit the bill -- and any old villain will do in that victim's defense. And who does nonsensical attacks on the media better than the MRC? Curtis Houck signed up for this mission, and he had his vitriol thesaurus ready to roll for a sept. 25 post:
Illustrating the putrid state of the liberal media and their gleeful embrace of the "cancel culture," the Gannett-owned Des Moines Register and reporter Aaron Calvin decided late Tuesday to impugn the character of Iowa State-fan-turned-cancer fundraiser Carson King using tweets from when the 24-year-old Iowan was 16.

Their reason? It was just "a routine background check" and done for "the public good."

King took the high road, insisting that the newspaper "has been nothing but kind in all of their coverage, and I appreciate the reporter pointing out the post to me." However, it doesn't change the fact that a major media organization decided to engage in character assassination of someone who, if it weren't for his act of kindness, would be a private citizen.
But Houck's fellow right-wing mobsters -- which he innocuously credited as "our friends and other accounts across Twitter " -- dug into the reporter's tweeting history and found offensive tweets there, and the revenge plot was set into motion:
So to be clear, dumb tweets from someone raising money for children with cancer is a horrendous offense. But racist, ugly tweets from the journalist assigned to scrutinizing this person like an elected official? Supposedly, it's more of an imperative to destroy the former.

Perhaps folks should keep all this mind before deciding to do something undeniably good or risk having the news media try to destroy them.
At no point does Houck challege the accuray of the reporter's work; he's simply mad that it was reported at all.
But Houck and his right-wing mob got its scalp; the reporter was fired. But that wasn't enough for Houck -- he wanted more blood, more revenge. He screeched the next day in a headline with "WIMPS" in all-caps:
With a stench of arrogance that can only emanate from the news media, Des Moines Register executive editor Carol Hunter published a Thursday night column expressing no apologies for their campaign to ruin viral sensation Carson King "because readers depend on us to tell a complete story" and, as per her past statement, was done for "the public good."

Hunter also revealed reporter Aaron Calvin was "no longer with the Register" after his ghoulish hatchet job against the cancer fundraiser over tweets King sent in high school, but the damage was done. As if they had let Jay Rosen or Brian Stelter pen this, she demonstrated a holier-than-thou proclamation from on high to us peons below that the paper will do better. Yeah right.

[...]

And in true Oliver Darcy or Stelter fashion, Hunter lashed out at those criticizing them: "We hadn't yet published anything about his tweets when some people on social media began accusing the Register of doing King wrong and ruining a potential opportunity to continue raising millions of dollars to help sick children."

On her first point ("Doing background work"), Hunter lectured readers like kindergarteners: "Some of you wonder why journalists think it's necessary to look into someone's past. It's essential because readers depend on us to tell a complete story."
Funny, because Houck has been an enthusiastic mob member with even ghreater arrogance, all too happy to destroy a reporter's career not because he reported anything wrong or false, but because he reported something Houck didn't like. Houck is the one being holier than thou by decreeing -- along with his mob -- who can never be critically reported upon and how pure the reporters must be who report on them.
The MRC doesn't care about journalism -- it cares only about working the refs (in this case, the media) to advance its political agenda. This sort of revenge campaign is working the refs in its most extreme form.
Houck is too indoctrinated in the MRC's anti-media philosophy to understand -- or care -- that he's damaging people; after all, damaging people who get in the way of his employer's agenda is what he's been trained to do.
Revenge is not "media research." But Houck thinks differently.
Posted by Terry K. at 3:22 PM EDT