Tim Graham's Funhouse Mirror: Bashes Straight-News Fox Anchor, Defends The Fake-News Anchor
Topic: Media Research Center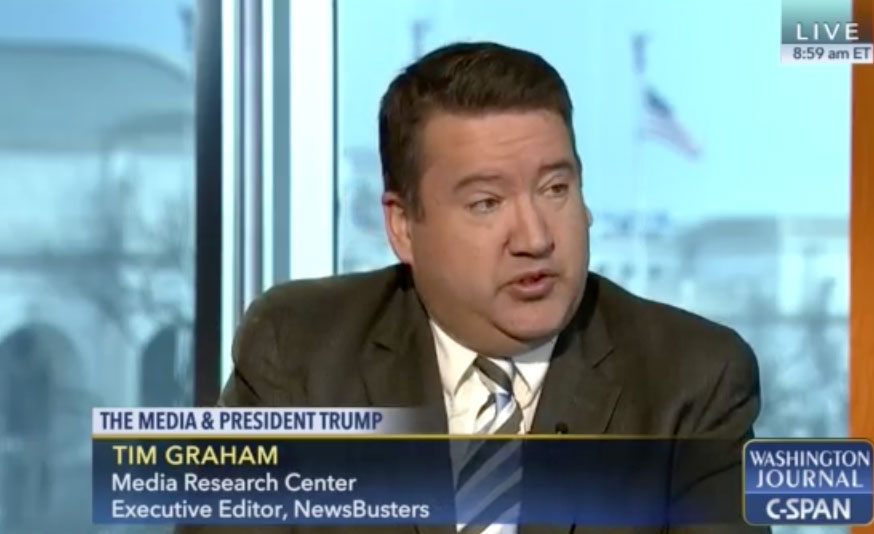 Just one of the many reasons the Media Research Center's Tim Graham is such a terrible media critic is his funhouse-mirror view of Fox News.
Graham whined in a May 3 post:
Fox News afternoon anchor Shepard Smith boasted to Time magazine a few weeks ago "I think we have to make the wall between news and opinion as high and as thick and as impenetrable as possible. And I try to do that."

Then he goes on television daily and makes a mockery of his own pledge not to spew opinions.

On Wednesday, the Internet lit up when Smith accused his own network of a conspiracy to put a group of voices on television counseling President Trump to avoid an interview with special counsel Robert Mueller, now that potential Mueller questions to the president were leaked to the newspapers.
Graham doesn't mention that there is truth to Smith's claim -- Fox News host Sean Hannity, for one, has denounced the questions as "crap,"and Fox News as a whole is all but begging Trump to fire Mueller and shut down the investigation (therefore precluding an interview).
Instead, Graham huffed that "Smith isn't relaying facts on a Fox News Channel. Like the other cable 'news' operations, he's sitting in a political playground he could call the Fox Imagination Channel. " Of course, if Graham doesn't think Fox's hosts are trying to influence Trump's behavior regarding the Mueller investigation, he's the one living in fantasy land.
Meanwhile, on May 17, Graham was much more praiseworthy of another Fox News host:
Fox News anchor Bret Baier appeared on ABC's The View on Thursday to promote his new book Three Days in Moscow about Ronald Reagan and Mikhail Gorbachev. But the ABC crew peppered him with questions about their favorite topic -- the White House aide who insulted John McCain -- and whether Fox News is the "administration's mouthpiece," since it's reported Sean Hannity talks to the president nightly after his show. Baier replied "There may be opinion shows that have a direct relationship with the president, and Sean is not calling me and giving me a download of the call."

[...]

But then Sunny Hostin, who routinely reminds viewers of her days as a legal analyst at CNN, threw shade at Fox, as CNN people do: "People do see Fox News as the administration's mouthpiece. I don't know if it helped that it's been reported that your colleague Sean Hannity talks to the president nightly before bed, about the day's musings. Do you think that's appropriate? I understand Sean is on the opinion side of the network. But as a representative of the network, that Sean is, is that appropriate?"

"First of all, the network overall is not a mouthpiece," Baier responded. "There may be opinion shows that have a direct relationship with the president, and Sean is not calling me and giving me a download of the call."

He added "I was on his show the other night, and he said to me, how much problem do I cause the news division, scale of one to 10? And I said, you know, a solid six. But it depends on the day." He said he tries to do it straight: "I have horse blinders on from six to seven."
Graham ignored another salient fact -- that in reality, blinders really aren't Baier's thing. Certainly he remembers the bogus story Baier reported -- and the MRC heravily promoted -- before the 2016 election claiming that Hillary Clinton's indictment was imminent. Baier had to retract that story a few days later, but Graham and the rest of the MRC never told their readers that, despite Brent Boizell declaring that "We will report developments on this continuing cover-up every hour from here on out." Apparently, the fact that the story was fake news wasn't a development worth reporting.
And then there's that book Baier was on "The View" to promote. Judging by the promotion for it on Baier's personal website, it's on the hagiographic side, touting how the book "reveals as never before President Ronald Reagan's battle to end the Cold War" and lovingly recounts how "In 1980, Reagan represented a new spirit of optimism—a remedy for the sense of malaise the nation was experiencing."
Does this sound like a guy who's wearing ideological blinders? To Graham, it does, apparently.
To sum up: Graham is gashing the straight-news Fox guy for saying something he can't be bothered to disprove, and he defends the Fox guy who's on record as promoting fake news. That's the way things work at the MRC these days.
Posted by Terry K. at 5:34 PM EDT