CNS Managing Editor Obsesses Over Possible Presidential Candidate's Sex Life
Topic: CNSNews.com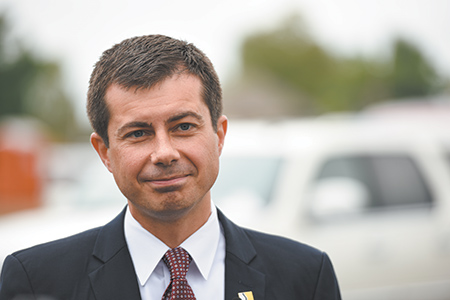 So South Bend, Ind., Mayor Pete Buttigieg is considering a run for the Democratic nomination for president. But filtered through the homophobic lens of CNSNews.com managing editor Michael W. Chapman, the only thing that matters is that Buttigieg is gay.
The headline on Chapman's Jan. 24 article on Buttigieg is headlined "First Openly Gay 'Married' Man Announces 2020 Democratic Presidential Exploratory Committee." The scare quotes around "married" persist in Chapman's head paragraph:
Pete Buttigieg, the 37-year-old mayor of South Bend, Ind., who is openly gay and "married" to another man, announced on Jan. 23 that he has launched a presidential exploratory committee to determine whether he will run for the 2020 Democratic presidential nomination.
The stuff about Buttigieg being a military veteran who served in Afghanistan, a Rhodes Scholar and a magna cum laude graduate of Harvard? Chapman waited until the second paragraph to mention it.
Scare quotes abounded in Chapman's piece: He noted that "On June 16, 2018, Buttigieg 'married' Chasten Glezman at the Cathedral of St. James' Episcopal Church in South Bend, Ind. ," and he included a picture of Buttigieg and his spouse with a caption stating that it showed him "and his 'husband,' Chasten Glezman."
He even suggested that Buttigieg was deceitful by claiming that he "came out of the closet as homosexual in June 2015, a revelation he did not make to South Bend voters back in 2010-11 when he first ran for mayor." Chapman did not explain why this was important.
Posted by Terry K. at 2:09 PM EST